Falling stars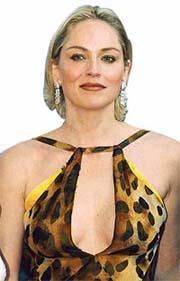 Sharon Stone: Big star blues
Hollywood is suddenly in the grips of a dilemma. After the box-office collapse of Sharon Stone's Cold Creek Manor which was hyped by extraordinary pre-release publicity, movie moghuls are wondering whether it is worthwhile investing mega millions in the so-called bankable stars.
Most of Sharon Stone's films like Harold & The Purple Crayon, Cyber World Beautiful Joe, Picking Up the Pieces and If The Walls Could Talk have flopped miserably at the box office. And that despite the fact that most of her films have explicit love scenes.
Considering the fact that most big star cast films cost upwards of $ 150 million, with many lead stars fees touching the $20 million mark, producers are coming to the conclusion that big salary stars no longer guarantee a hit.
They are citing examples of films like My Big Fat Greek Wedding, Goldmember, Ice Age and even Scooby Doo which with their non-existent star cast turned out to be some of the biggest blockbusters of recent times.
In fact, Tobey McGuire (Spiderman) and Daniel Radcliff (Harry Potter) even became household names only after their movies hit it big
Where's the oomph?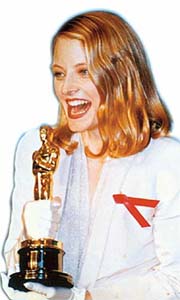 Jodie Foster: No star appeal
Hollywood is losing its star appeal. Oldies hooked to nostalgia say that the tinseltown has moved light years away from the magical times of Clark Gable, Humphrey Bogart, Marlene Dietrich and Greta Garbo.
Today's stars, they say, are faceless people and pursue acting' like any other profession. They are people who take their work very seriously but when it comes to the mystic aura which surrounded actors of the 1940s and the '50s, they draw a big blank.
The modern-day actors are at great pains to portray the image of common people and exult in showing to the world they are as normal as the next guy or girl.
Jennifer Lopez downplays her sexuality. Jodie Foster and Uma Thurman project a scholarly and academic image and others like Fords, Connerys and Pitts are at pains to tell the world they are a happily married lot.
Star romances which were a part of Hollywood folklore in the past are now an everyday affair with some of the newer stars staying as live-ins or openly flaunting their sexual peccadilloes.
"Gone are the days of the Zsa Zsa Gabors and Brigitte Bardots who ignited hearts around the world," says an Hollywood old-timer..
Way of all the flesh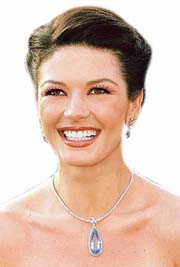 Zeta-Jones: Playing the hooker?
Heidi Fleiss, the high-powered call girl of Hollywood who allegedly ran the biggest whorehouse in Los Angeles, is believed to have almost signed a multi-million dollar contract with Catherine Zeta-Jones to portray her on celluloid. In a top secret meeting with Heiti, Zeta-Jones reportedly wrapped up the movie rights deal.
A number of Hollywood's big names who were Heidi's clients are running scared. They are wondering if she is planning to give out the names of people who visited her once the contract is signed.
Though her attorneys had advised her not to start business talks about the flesh business with the star, Heidi, who's a die-hard Zeta-Jones loyalist, obviously felt that there was no way she was going to lose out on the opportunity of working with the star who is fast becoming a Hollywood biggie.
— Newsmen Features