Sunday, August 24, 2003

Ulta-pulta
Tuitions for ragging
Jaspal Bhatti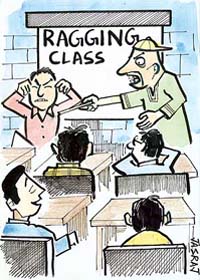 GAURAV Malhotra, terrified and traumatised by the ragging in the prestigious Army Institute of Technology in Pune returned home to his parents in Chandigarh. The kind of sexual harassment and brutal ragging Gaurav encountered, he is now reluctant to go back to the college's hostel.
Ragging in this frightening form should be totally banned. Or parents who seek tuitions for their children in Physics, Chemistry and Maths should also get their children enrolled for tuitions in ragging. Many private and government institutes will then offer courses on ragging. You'll see publicity banners like this "Introduction to light ragging fees only Rs 200", "Ragging for Medical and Engineering Colleges only fees Rs 500!" "Is your child scared of ragging? Then get him enrolled in the Delhi Institute of Ragging and see all his fears vanish!" The child could then face any kind of ragging — it's another thing that he might fail the entrance test. You'll hear people talking.
"Our Bittu was really looking forward to being ragged but poor thing he couldn't get admission in any medical college."
Decent ragging has its merits. When I was a fresher in the Punjab Engineering College, everytime the seniors saw us we were made to wear our shirts the wrong way, or climb trees and caw like crows. Once we happened to meet them in a cinema hall. When we wished them, they instantly recognised all the freshers. After that we were asked to see the entire movie with our backs to the screen. We were so embarassed then, but thinking of it today brings back fond memories because those very seniors went out of their way to help us.
A little bit of ragging is enjoyable. After marriages, saalis rag the groom. But the ragging is never that severe that the poor groom runs for his life leaving the bride behind.
But when ragging crosses the limits of decency and tolerance, it can have a traumatic effect on freshers. If we cannot draw a line between decent and brutal ragging, then I feel that ragging should be totally banned.