Monday, August 25, 2003
Feature
E-shopping boom on hold
Madhuri Sehgal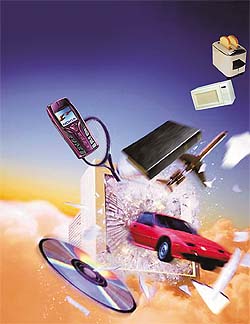 INDIANS are spending more time online and less at their favourite malls, thanks to shopping portals, which are wooing the consumers with their attractive offers and the option of delivering goods at the doorstep.
However, according to experts, for e-commerce to prosper in India, proper business strategies, flexible payment modes and better infrastructural set up are needed.
Relief from traffic, attractive offers and the option of getting goods delivered at doorstep is making supermarket culture a pass`E9, as large number of persons are spending more time shopping online.
"Contrary to general opinion that online shopping has not been very successful in India, these days a large number of persons are doing monthly shopping through PC and a phoneline. It is being seen as an attractive option by many families", K. Vaitheeswaran, vice-president (Marketing), Fabmall, one of the leading online shopping malls in the country says.
It not only saves time but also gives relief from traffic chaos. Moreover, there is nothing like sitting in the comfort of the home and ordering things, he says.
"With myths and wrong perceptions about the concept of online shopping fading away gradually, people are now able to realise the true potential of this industry and are experimenting with this new shopping experience," Vaitheeswaran adds.
And to cash-in on the growing traffic on the Internet, portals are even expanding the range of goods available online.
"These days online shopping extends not just to grocery but cassettes, CDs, watches, clothes, paintings, flowers, books, fruits, computer spares, pots, furniture and even air tickets. In fact, there is hardly anything that you cannot buy online," says an official with baazee.com, an online shopping portal.
While books and CDs continue to be the fastest moving items online, holiday packages, leisure travel bookings and high value items like home appliance are fast gaining acceptence.
"This new trend of increased purchasing of higher price items clearly implies a growing confidence in online shopping and ordering," says Vaitheeswaran.
Even though portals claim that that the width of product range and payment options available to the customer on the Net give virtual shopping an edge over physical shopping, a survey by Taylor Nelson Sofers Interactive had found that the fear about online payment security is holding back Net users from shopping online.
According to the survey, nearly 27 per cent of the Net users in India did not purchase goods online because they think it was too difficult and had apprehensions about making payment online.
Users concern about security is not new, yet the industry seems to have done little to address them, it says.
Echoing similar sentiments, Vaitheeswaran says, "In India, the Internet population is nearly five million and out of this, hardly five per cent go in for online shopping and online payment security issue is the main reason behind this low percentage."
"We are making efforts to remove the general perception that online shopping is risky and difficult," he adds.
In a bid to do away with the payment security problem, a large number of portals are also offering cash on delivery option that can go a long way in increasing the number of customers online.
About growing number of complaints regarding the non-delivery of goods ordered, Vaitheeswaran says, "It is difficult to achieve 100 per cent customer satisfaction in any business, but we have managed to achieve nearly 96 to 97 per cent success rate."
To improve on this, some e-stores have also introduced online chat facility within the site. "There was a huge jump in the number of orders after we introduced the chat section because
this feature added a personal touch to this virtual experience," he adds.
Also, experts say, better Net connectivity can give boost to this industry. While it may still take some time for these online malls to reach a much larger chunk of population in India, it surely provides respite from cumbersome shopping in the hectic lifestyle and long work hours.