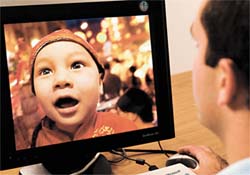 E-lationships
Net provides new possibilities in human relations
Kuljit Bains
OUT of sight need not necessarily mean out of mind. The Internet today has moved beyond being a novelty or a fancy concept for the youngsters. It is connecting real people — like grandparents or couples living away from each other — to real people, even in an apparently less-connected country like India. All this connectivity is giving rise to a new social force that did not — rather, could not — exist earlier.
E-shopping boom on hold
Madhuri Sehgal
INDIANS are spending more time online and less at their favourite malls, thanks to shopping portals, which are wooing the consumers with their attractive offers and the option of delivering goods at the doorstep. However, according to experts, for e-commerce to prosper in India, proper business strategies, flexible payment modes and better infrastructural set up are needed.

Lankans' dream — Offshore job and foreign spouse
Manoj Kumar
"I SPEND one to two hours daily on the Net for exploring job opportunities abroad, besides chat and e-mail. A number of my friends have gained admission to the universities in the UK, USA and Canada via the Internet," says Sumal Desilva, 24, desirous of joining a course in hotel management and catering.

The dirty half-dozen
Gurpreet S Arora
A VIRUS is a program that reproduces its own code by attaching itself to another program. It is basically a self-replicating program written for destructive purpose. It interferes with the computer's operating system (the basic software that runs the computer). Viruses are designed to replicate and elude detection.

IT WIT
by Sandeep Joshi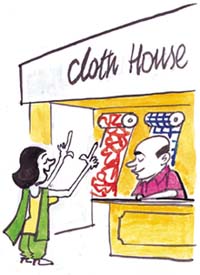 Can you give me a 10" x 8" curtain for my Windows '98 PC .

Finding second-hand RAM not easy
Jasjot Singh Narula
BEEP at boot up! Beware. Your PC could be in distress. One of the many reasons could be RAM (Random Access Memory) failure. RAM, whose biggest enemies are dust and moisture, can actually pique a PC user if it crashes. Non-availability of RAM is not the reason. Non-availability of compatible RAM, however, is.


What's in a Website's name?
A lot, say Sun...
Ela Dutt
WHEN Indian American Sandeep Sood named his firm DeepSun, he had no idea he might infringe someone else's brand name. He had checked the Web and found there was no other company by that name in late 2001. So Sood was surprised when computing giant Sun Microsystems filed an opposition to his application with the US Patent and Trademark office.