Monday, August 25, 2003
Feature
What's in a Website's name?
A lot, say Sun...
Ela Dutt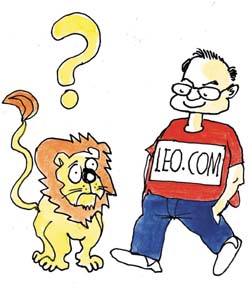 WHEN Indian American Sandeep Sood named his firm DeepSun, he had no idea he might infringe someone else's brand name. He had checked the Web and found there was no other company by that name in late 2001.
So Sood was surprised when computing giant Sun Microsystems filed an opposition to his application with the US Patent and Trademark office.
The University of California, Berkeley, graduate in economics started his marketing development company in late 2001 and did not think twice about making a play on his own name. It was a dream he had since he was a child — to start his own company and name it after himself.
Sun Microsystems, however, wasn't pleased. In fact, the company implied that the name DeepSun was an intellectual property and trademark issue under dispute.
DeepSun does graphic design, e learning, and small business marketing, says Sood, which was a far cry from a hardware company like Sun.
Initially, he worked on his contracts himself, but through his research and some contacts in India, he had built a development team of six software engineers in India with four months. "It is really great. The quality of work coming from India is en par or better than here. It is amazing," Sood told IANS. All along, Sood has not asked for any venture capital or angel funding. "Because I don't like people telling me what to do." That freedom and stubbornness may be his defining qualities but he did not let him stop from making an offer to Sun Microsystems asking they pay him $ 84,000 to change his name.
"I went through and figured out how much it would cost to re-brand myself and my customer relationships. I went through all that and gave them what I thought was a reasonable figure. But they (Sun) made very insulting comments like - 'in these economic times, a company can be bought for just a few dollars'," he said.
"They are acting as if they own the centre of the solar system," Sood maintains, playing with words as he did with his company name.
"For any of us, it's clearly a play on my own name. I told them that in Hindi or in Punjabi it is not pronounced 'san' but 'sun', if I had said DeepSan it would have sounded like Japanese soy sauce," Sood laughed.
Mary Goh Petry, Sun's senior manager corporate communications, says the firm could not go into details about the dispute.
Sood says he got his entrepreneurial spirit from his mom. "She came from a village in India and now she has a successful independent loan company.
Ironically, the company through which she operates her loans is named SunWest.
"I asked Sun (Microsystems) - 'are you going to sue every company which has the word sun in it - CapriSun, Sunday Chronicle, Sun Ra the Egyptian God," Sood says, seeing the funny side of what could be serious business.


Viagra-makers and Bimbo too feel the same
THE rogue Website vyagra.com was dismissed as little more than a scam by the UN copyright agency that ruled it should be handed over to Viagra-maker Pfizer Inc.
An arbitrator for the UN's WIPO agency found that the site was aimed largely at extracting money from the world's biggest drug company and maker of the anti-impotence treatment.
The site is not currently active, according to a report from the Geneva-based agency, but in the past it had directed surfers to others selling the drug — as well as to pornographic links.
The current owner of vyagra.com told WIPO by e-mail he had bought the site this year, then offered it for sale to Pfizer.
The company said it proposed a price of $150, to cover the administrative costs of changing the registration, but the anonymous owner asked for $2,500.
The arbitrator ruled that was in bad faith and ordered the US-based registrar for the site to hand it over to Pfizer.
Similarly, the US owner of Website, bimbo.biz, fought off a legal challenge from Spanish food and consumer goods giant, Bimbo S.A., pledging that he would never use it to sell competing bread or cakes.
Californian Lars Taylor insists that not even the famous Iberian baker, which also produces clothing and books, could claim as a trademark a common word defined in Webster's dictionary as slang for "a morally loose woman."
His still blank site, Taylor says, would probably cater for the "adult, novelty and humour" market —far from the family oriented merchandise associated with the Barcelona-based firm, and unlikely to confuse Web surfers.
Bimbo S.A., which is also a big name in Latin America, itself owns a series of sites ranging from bimbo.com and bimbo.es to bimbogames.net.
It complained to the United Nations copyright agency WIPO that Taylor had been guilty of bad-faith cybersquatting —setting up a fake site with a famous name to sell it at a profit—and sought a ruling ordering him to hand it over.
But an arbitrator for WIPO, which runs a system to settle domain name disputes on the Internet, rejected the complaint and ruled that Taylor could remain the master of his private bimbo, according to a statement from the Geneva-based agency. — Reuters
...and Amazon
A WEBSITE owner arguing online retailer Amazon.com Inc. cannot lay exclusive claim to the name of the world's second longest river to sell goods on the Internet learned that, well, yes it can.Arbitrators for the United Nations copyright agency WIPO told the Arizona man behind amazonbooks.net and amazonbooks.org to hand them over to Seattle-based Amazon.com that sells products round the globe. Paul Horner told WIPO by e-mail in response to a complaint from the big brand-name that his sites provide resources about the River Amazon to potential travellers or people who just wanted to learn more about it.
But the three arbitrators found that the sites offered scant original information on the mighty South American waterway other than links to others with which Horner had no connection, and that they looked suspiciously like amazon.com.
Worse, they said in a report issued by WIPO which runs a system to settle disputes over Website names, amazonbooks.net and .org provided links to sites — which include rival retailer —competing with the Seattle firm.
It was, said the three wise men, "a reasonable inference that (Horner)....was motivated by the prospect of attracting consumers who erroneously visit these sites" rather than those operated by Amazon.com. — Reuters