Monday, August 25, 2003
Feature
Lankans' dream — Offshore job and foreign spouse
Manoj Kumar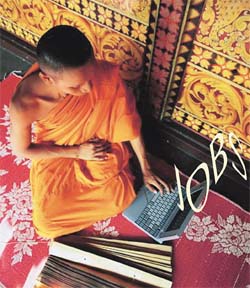 "I SPEND one to two hours daily on the Net for exploring job opportunities abroad, besides chat and e-mail. A number of my friends have gained admission to the universities in the UK, USA and Canada via the Internet," says Sumal Desilva, 24, desirous of joining a course in hotel management and catering.
This is not an isolated case. A large number of educated youth in Sri Lanka are using the Internet to elicit information about the job market worldwide. The ethnic conflict between the Sinhalese and Tamils over the past two decades has badly affected the economy, resulting in widespread unemployment and rise in prices. However, after return of peace, the government is focusing on IT and tourism sector. Though the Internet services in the small island is far behind as compared to India, yet it is picking up slowly.
Just as they complain in India, the Internet users in Lanka too complain about slow connectivity and high charges. For instance, at any Internet cafe, the users would have to pay Lankan Rs 100 to 200 per hour (INR 50 to 100). Some of the hoteliers charge up to Lankan Rs 600 per hour for providing Net services. The operators, however, complain that frequent power breakdown, low bandwidth, lack of centralised information and no access to nodal database besides low quality of service affects their business.
Sriyani Samarasekera, who runs a cafe along with her son, says: "Due to lack of job opportunities, most of the youth want to immigrate. The proportion of girl surfers is relatively lower. But some of them are coming forward to learn computer skills now."
Interestingly, a section of Lankan youth is using the Net to chat up foreigners with the ultimate aim of marrying them and settling abroad. Sumal Desilva (27) says, "Nearly a year ago, I started chatting with a German girl on the Net. Later she came here and we got married. I am now getting my visa processed and hope to join her soon."