The couple wed at a Shiva temple in Goa in the presence of Pooja's mother Kiran Bhatt and close friends. A couple of days before the marriage, Pooja had sent an SMS to her father Mahesh Bhatt saying that Munish had proposed to her and that she was contemplating saying yes. However, Bhatt didn't attend the wedding since he said he was 'a little uncomfortable attending religious ceremonies.'
Pooja and Makhija met on the sets of the former's directorial debut, Paap, starring John Abraham and newcomer Udita Goswami. Makhija helped Pooja with the audio track for the film.
A graduate from Delhi University, Munish has worked as a coordinator for companies, making corporate videos and choreographed dance shows, before setting up a restaurant in Goa.
Karisma Kapoor
Karisma Kapoor, who almost got married to Abhishek Bachchan, will be finally tying the knot with Delhi-based businessman Sanjay Kapur.
The wedding will take place in September. According to Karisma's father Randhir Kapoor, 'She is definitely getting married next month. Everything would be finalised within a week.'
Sanjay Kapur is the brother of Karisma's childhood friend Mandira Kapur. Karisma and Sanjay have known each other for a long time. They were even supposed to have nursed close feelings for each other once upon a time.
But things changed as Karisma pursued a career in Bollywood and got close to Abhishek Bachchan. Their engagement was announced with much fanfare on Amitabh Bachchan's 60th birthday on October 11, 2002.
But once Karisma's engagement with Abhishek was called off, she got closer to Sanjay, who himself was nursing a broken heart as his marriage was on the rocks. He was married to the daughter of a business tycoon in Delhi. Sanjay's divorce has just come through. His ex-wife is a fashion designer.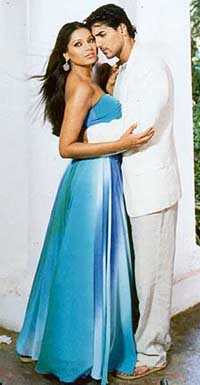 Bipasha too plans to marry soon
Kapur, who deals in automobile spare parts, is known to be a social recluse. According to sources in Delhi, 'Sanjay is an intense and intelligent man. He is reserved by nature and hardly socialises like other rich businessmen.'
Meanwhile, sources close to the Kapoor family in Mumbai insist that Karisma has already started shopping for her trousseau.
Bipasha Basu
Bollywood's sultry siren, Bipasha Basu, will soon be leaving her fans heartbroken. The Bong bombshell says that she plans to get married to 'good friend' John Abraham 'anytime soon.'
During an interview, Basu said, 'John has been a part of my life for a long time. We now want to go ahead and get married. Although we have not decided on the dates yet, it could be anytime soon.'
The model couple has acted together in Pooja Bhatt's erotic thriller, Jism. They are also shooting for Vikram Bhatt's Aitbaar, which also stars Amitabh Bachchan. The duo came closer after Bipasha's split with Dino Morea, and John's with Riya Sen. — LMN