Groovy affair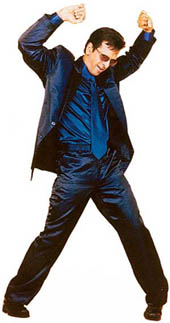 Jaffery in Grooves: International song and
dance show
Get ready to shake a leg or two with Grooves, India's first international talent hunt starting September 1, on Sahara Manoranjan. Those who like kids dancing to film songs will find the show funky and entertaining.
Grooves is breaking boundaries of space and travelling to 40 cities across India, leading to four zonal finals followed by an all-India championship. Auditions will be held in America, England, South Africa, UAE, Thailand, Malaysia, Australia and Mauritius and winners from these countries will come to India for the world championship.
And there's truly plenty at stake. Those who win the mega final will get a golden trophy, a chance to cut an album and to top it all they will be the proud owners of a Mercedes Benz.
This is Javed Jaffery's first stint on TV as a producer. He is confident that this will be a mega success. "Grooves has the potential to grow into a media event as big as the Miss World and the Miss Universe pageants." Global ambitions indeed.
Life's a party
Remember Neel of Kanyadaan? You don't? How about conman Siddhu of Josh? Yes, most viewers would remember the master of disguise who lusted after money and girls.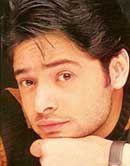 Sherawat: A Josh
for films

Ask Vinod Sherawat about Josh and the spirited young man is ecstatic. "It's given me the perfect launch." He claims to have done some breath-taking stunts in the action serial like jumping from the 25th floor of a building and leaping out of a helicopter, all by himself.
A product of 'Theater Action Group', Sherawat has been a regular on stage having done plays like Blood Brother, Tommy and Westside Story before doing a cameo in Shyam Benegal's Zubeida where he played Karishma Kapoor's first husband.
But post-Josh life seems to be going at warp speed as he makes another big screen appearance in Javed Jaffery's home production Enjoy, a 'Hinglish' film revolving around a rich man who throws a party for his former girlfriend.
Sherawat plays one of the three lead characters along with Aashish Chowdhury and Aarzoo Gowitrikar. "It's a very engrossing one-night story. Watch the film and just Enjoy it," says Vinod, who is seriously considering switching to Bollywood.
So, will it be goodbye to the small screen? "Offer me something bigger then Josh and I'll grab it." Till that happens, Sherawat is hoping to grab some meaty film roles!
Tiger, tiger burning bright
Keep your Sunday mornings free as Discovery Channel brings you the Jackson Hole Wildlife Film Festival's special jury award film Tiger — Hunted Majesty at 9 a.m.
The film provides a stunning portrait of life within India's Kanha National Park and the fight for survival of one particular tiger family. It documents the intimate lives of a female tiger Lakshmi and her two cubs and a real fight in which Lakshmi is badly wounded while trying to save her young kittens from a male tiger.
Narrated by David Attenborough, the distinguished natural history filmmaker, the documentary is a tribute to the cameraman, the late Chip Houseman, who lived and breathed with the tigers in Kanha.
Tiger — Hunted Majesty is a truly a special film on one of the most breath-stoppingly impressive animals which smacks of grace, power and danger. Ironically, its irresistible fascination has made it the most prized object for hunters.
The art of renaissance
Take a trip to the artistic period of Renaissance which is described as the greatest era of cultural achievement. Documented by Andrew Graham-Dixon, the six-part series concentrates on the visual arts of the Renaissance — painting, sculpture, architecture — putting them into appropriate historical and social context.
Renaissance, BBC World, starting September 6 every Saturday at 5.40 p.m., goes back in time and traces the cultural history of Europe from the 13th century to its zenith in 16th century Rome. The centuries that produced some of the most important and influential artists of all time —Donatello, Michelangelo, Raphael, Titian and Leonardo da Vinci.
The series, filmed extensively on location across Europe, explores the origins and legacy of this extraordinary "age of genius", reassessing the foundations of European culture and showing how Renaissance helped to shape the modern world.
In the first episode of the series Body And Soul, Graham-Dixon examines the traditional view that the Renaissance had its origins in the innovations of Florentine artists and the revival of antiquity in the 15th century. The series is a rare treat for art lovers and a chance to see some of the world's greatest works of art.
Gaon ki baat
Did you know that Krishi Darshan on the National Network is still on-air and (surprise, surprise) it has one of the highest viewerships across all channels, thanks mainly to the rural outreach of Doordarshan.
Now Star News launches a 'sexed up' version of Krishi Darshan that finds out how new age technology and inspired innovations are touching the lives of developing India.
Mera Gaon Mera Desh, a 15-minute capsule from Monday to Friday at 5.45 p.m., brings eye-opening stories about how access to new economy has made worldwide developmental tools easily available to developing India, thus broadening options from raising the quality of life to adopting new age agriculture and farming techniques.
The show highlights several instances and efforts made by individuals and institutions to make life better in villages. It brings to viewers success stories ranging from increasing empowerment of women to speedier development showcasing the changing face of rural India which is fast catching up with its urban counterpart.
— Mukesh Khosla