Expedite probe, says NCM
Statements of torture victims, accused recorded
Kulwinder Sandhu
Tribune News Service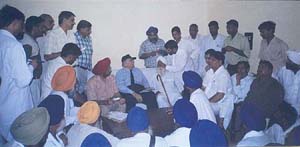 Lieut-Gen A. M. Sethna, member of the National Minority Commission, records statements of the local people regarding the incident of alleged torture of four Sikh youths. — Photo by Kulwinder Sandhu
Safidon (Jind), September 18
The National Commission for Minorities (NCM) has asked the government of Haryana to speed up departmental inquiry against five police personnel, including former SHO of the Safidon police station, as they had been accused of torturing four youths in illegal confinement.
Lieut-Gen A.M. Sethna (retd), member of the NCM, visited Safidon this morning and recorded the statements of victims, the accused and several others, including the sarpanch and nambardar of Danauli village. The district administration also presented its report to the commission.
Hundreds of Sikhs gathered at the PWD guest house where the NCM member came to inquire about the incident. The Deputy Commissioner, Mr Rajiv Sharma, the SSP, Mr Manjit Singh Ahlawat, and other officials of the administration were also present to explain their position.
The NCM member recorded the statements of politicians and other personalities.
He then summoned the accused police personnel former SHO Ishwar Singh Rathi, ASI Ishwar Singh, head constable Nand Kishore and constables Ranbir Singh and Kuldip Singh. Their statements were recorded in a closed room in the presence of the Deputy Commissioner and the Superintendent.
Talking to mediapersons, he said, "There is apprehension among the Sikhs about the role of the police and senior officials in particular".
Asked about what action the NCM would take, he said, "Our role is to ensure communal harmony. I am satisfied with the locals and the Sikh community in particular who have played a positive role in preserving harmony in the area.
"Law will take its own course. I will prepare the report in few days and sent it to the state government for action", he added.
Reacting to the demand for a judicial probe and compensation to the victims, he said it was a cognizable offence and action had already been taken by the administration as per law. As far as compensation was concerned, money could not compensate for humiliation.
Earlier, the district administration in its report submitted to the commission stated that legal action had been initiated against the police personnel and departmental inquiry against them was in progress.
Meanwhile, a deputation of the Haryana Sikh Sangat led by its president, Mr Surjit Singh Damr, and that of the SAD led by the executive member of the SGPC, Mr Bhupinder Singh, met Lieut-Gen Sethna and presented memorandum to him demanding a judicial probe into the incident.