Turkey lauds PM's peace initiative
Vajpayee unveils bust of Rabindranath Tagore
Istanbul, September 18
Prime Minister Atal Bihari Vajpayee today held discussions with Turkish President Ahmet Nacdat Sezer on the growing menace of terrorism, latest developments in West Asia and the Iraq crisis.

Prime Minister Atal Bihari Vajpayee watches the bust of Nobel laureate poet Rabindranath Tagore after unveiling it in Ankara on Thursday. — PTI photo
Visit significant for Indian expatriates
Business page

Vajpayee lays focus on business in Istanbul
Joshi to quit if chargesheeted
New Delhi, September 18
In a quick move to settle old political scores, Human Resource Development Minister Murli Manohar Joshi said today that he would resign from the Council of Ministers if charges were framed against him tomorrow by the Rai Bareli special court, which is expected to pronounce its order.
In Career Guide today
HOROSCOPE
TRIBUNE SPECIAL

State of universities
The Tribune has a close look at the state of universities in Punjab, Haryana and
Himachal Pradesh

THE TRIBUNE MAGAZINES
On alternate Mondays

On Sundays
On Saturdays
IN PASSING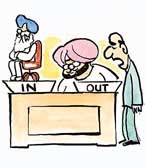 Sir, how long will you keep this file pending?
by Sandeep Joshi
Verdict today on framing charges against Advani
Journalist shot dead in Kaithal
Family members allege Chautala hand
Kaithal, September 18
Parmanand Goyal, a local journalist, was shot here today by three motor-cycle-borne assailants. Goyal is the second journalist to fall to the bullets of assailants in the state this year. Earlier, Sirsa journalist Ramchander Chhattarpati was shot.
Cong seeks CBI probe into scribe's murder
NCR page

Murder of journalist condemned, CBI probe sought
Expedite probe, says NCM
Statements of torture victims, accused recorded
Safidon (Jind), September 18
The National Commission for Minorities (NCM) has asked the government of Haryana to speed up departmental inquiry against five police personnel, including former SHO of the Safidon police station, as they had been accused of torturing four youths in illegal confinement.
NICD team in Shimla
Mystery fever toll 11
Shimla, September 18
The team of the National Institute of Communicable Diseases (NICD), which arrived here today to investigate the cause of the mystery fever, may take a week to arrive at any definite conclusion.


Editorial: Mystery fever
Intervene in '84 riots case, NHRC urged
New Delhi, September 18
The National Commission for Minorities (NCM) has urged the National Human Rights Commission to intervene in the November 1984 Delhi riots case as it did in the Best Bakery case in Gujarat.


Night marriages back in Kashmir
Baramula, September 18
Late-evening marriages are back in Kashmir, a scenario unimaginable from the beginning of militancy in 1990 till last year. This is not to say that things have improved a lot in this trouble-torn valley. It is only that people have begun taking violence in their stride. These days marriage ceremonies continue up to 11 p.m.
Decision on troops after UN action: PM
September 18, 2003

SC stays disinvestment in HPCL, BPCL
September 17, 2003

Dara, 12 others convicted for killing Staines
September 16, 2003

India threatens to walk out of meeting
September 15, 2003

Kukka Parray shot dead
September 14, 2003

Quit if you can't protect citizens, SC tells Modi govt
September 13, 2003

Al-Qaida vows more attacks
September 12, 2003


India, Israel vow to end terror
September 11, 2003

India, Israel to fight global terrorism
September 10, 2003

Mamata returns sans portfolio
September 9, 2003