A popular American website smokinggun.com has posted a 1977 interview he gave to an adult magazine Oui, where he admitted to doing drugs and women. He also disclosed he had participated in an orgy with other bodybuilders.
Though Schwarzenegger has been taking this and some other 'harmless' barbs in his stride, what made him truly livid was a report that said that he is pro-Nazi and anti-Semitic in his views.
In a rage, the action man is threatening to take the reporter to court, saying that he was the very opposite of what was said in the write-up. The writer is believed to have offered an unconditional apology, saying that the allegations were untrue. That muscle power, Arnold style.
Role over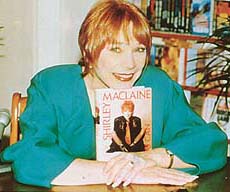 Shirley Maclaine: Woman of substance
The two daughters of the late American Senator Bella Abzug are livid with old friend Shirley Maclaine for accepting the lead role in a film based on the later years of the life of the great American public activist and social reformer.
"The family of Bella thought a Jew should play the part, "says Shirley, adding "But I told them there were hardly any good roles for women in Hollywood these days and I couldn't afford to turn it down because I'm not Jew."
"Any actress will tell you that such role's are rare to come by. Bella was not just one of the greatest American women of the twentieth century but also a great crusader who fought for justice and peace, equal rights, human dignity, environmental integrity and sustainable development. Her work and vision advanced human goals worldwide. I think that it'll be the best movie of the year." Shouldn't the veteran star wait for the box office to judge that?
Murphy's law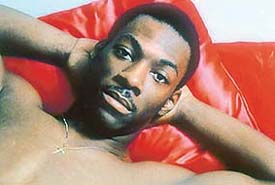 Murphy: Singing along
Though many eyebrows were raised when Eddie Murphy announced that he was doing a music album few know that this is not the superstar's first foray into the world of music.
His first effort was a tastelessly humorous album titled Eddie Murphy which boasted of such infamous tracks as Boogie your Butt. But it didn't put an end to Eddie's singing aspirations. In 1986, he enlisted help from soul superstar Stevie Wonder to record How Could It Be which spawned the U.S. No. 2 hit. Party All The Time followed by I Was The King.
In fact, Eddie has come a long way from April 3, 1961, when he was born Edward Regan Murphy to a father who was a cop in the New York Police Department and a mother who worked as a receptionist in a small firm.
Today, he is one of the funniest men in films. Besides being a pop singer, Eddie's other qualifications include a programme presenter and a script-writer. However, much as he would like his admirers to believe, Murphy's pop career did not start on a promising note.
But he is quick with his defence when it comes to his albums: All art form, he says, "comes from God. So what I'm doing is God's work. If anyone says anything negative about that then he's Satan." But no matter how hard Eddie tries, the fear of God seems unlikely to scare his satanic critics away.