Stardom beckons a beefcake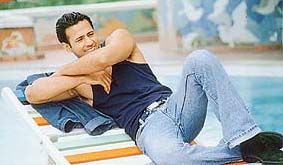 Aryan Vaid: Graduating to films from Campus
Remember Sunny of the hit serial Campus? No? Not many would be able to recall the face that was destined to shoot to international fame. In October, 2000, Aryan Vaid annexed the Mr International crown and has never looked back since then.
Not many people know that Aryan had been acting long before he started his modelling career which finally led him to the international crown. He had then been doing theatre with Markand Deshpande and later formed his own group Manthan.
But modelling and theatre aside Aryan has now followed other Mr International winners like Bikram Saluja and Diwaker Pundir into Bollywood. The hunk makes his debut in the Manisha Koirala starrer Market where he plays an underworld sharpshooter, Babloo Pandey.
"I liked the script as it had a lot of energy and adrenaline so I grabbed it," says Aryan about his soon-to-be-released debut film. But thatís not all. He has starring roles in Karan Razdanís Hawas Amol Shegdeís Sambhav and Tanuja Chandraís Filmstar opposite Mahima Chowdhary.
With assignments rolling in from modelling, TV and now films where do his priorities lie? Modelling, he says is great fun and "Iíll keep doing it till I keep enjoying it. But acting is where I belong," says Aryan who idolises Shah Rukh and wants to emulate his style and success. Obviously he takes heart from the fact that Shah Rukh too started on the small screen!
A killer comedy
Nominated for six Emmy Awards and five Golden Globes, Just Shoot Me is the critically acclaimed ensemble comedy and perennial US top-ten series on Star World, Mondays to Fridays at 7.30 p.m.
This sophisticated half-hour comedy focuses on the strained father-daughter relationship. Maya is an accomplished journalist with a razor-sharp sarcastic wit, and Jack is her estranged father, an irrepressible womaniser who is the publisher of Blush, a fluffy fashion magazine that Maya detests.
After quitting her job as a TV newswriter, Maya approaches her father for help and reluctantly accepts the job he offers at the magazine. During their reconciliation, she is surprised to discover that her fatherís fourth wife, one of Mayaís former high school classmates, is having a baby.
At the office, Maya has to deal not just with the editor, Nina Van Horn, a biting and pretentious ex-model whoís going through middle-age crisis but also Blushís photographer and a chronic admirer of beautiful women; and her fatherís power-crazy right-hand man, Dennis Finch. Itís 30 minutes of high-energy, hi-jinx and wacky comedy every weekday.
Testing new-age therapies
Staying healthy is no longer a fad but an imperative in modern life. All the more for city dwellers exposed to the pulls and pressures of modern existence. In such a scenario, the accomplishment-driven people are finding newer ways to improve the quality of life and keep fighting fit.
One aspect of this changing mindset is the revival of traditional systems of medicine, ironically referred to as "new-age" therapies. Ayurveda, Unani, naturopathy, yoga and the Chinese and Tibetan streams are some of these traditional systems that are gaining an increasing number of adherents.
Do these and other alternatives to traditional western medicine really work? Many consumers and patients seem to think so. They say that alternate methods guarantee better health. The premise in most of these unusual therapies is that a relaxed mind is the ultimate healer of the body.
A Different Way To Heal on the National Geographic Channel, Friday September 26 at 8 p.m. looks at the array of alternative and so-called complementary medicines available in the market which are fast becoming a multi-billion dollar industry.
There are many claims for the efficacy of such treatments, but very little scientific testing and evidence of support. Follow research projects and clinical trials that are attempting to test these claims with scientific methods and find out amazing truths behind these healing techniques.
ó Mukesh Khosla