"Our clients are people for whom running is a lifestyle. They go to run in marathons on different continents. They are not the ordinary kind of tourists, who simply travel to see new places. These people would never have come here if it had not been for the marathon. They came to savour the experience of running on the extension of the Tibetan plateau in Ladakh," said Michael Andersen of Albatros, who was also the race director. "And, now that they are here, they've all been raving about the landscape and culture of Ladakh. They've opted for various packages, combining sightseeing and trekking and rafting," added Nazir Rah, owner of Mountain Adventures. So enthralled were one dating couple that they decided to get married in Leh. Joern Pedersen and Majbritt Jensen of Denmark had a traditional Buddhist wedding presided over by five lamas a couple of hours after completing the breakfast run. "We are so happy that our wedding could take place in a beautiful place like this," said the happy bride. A day earlier, the couple had celebrated another occasion, Pedersen's 49th birthday. Lean and fit, Pedersen is a serious marathoner who tries to incorporate a race into his holidays. "I've run in China, Greenland, Kenya, Germany and France before Ladakh," he smiled. "It's a great way to see new countries."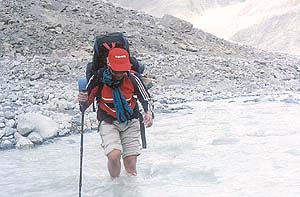 Running a marathon in tough terrain was an awesome experience
Most runners were from Denmark, with a handful of athletes from Norway, Spain, Australia and New Zealand. Many of them had earlier participated in other events organised by Albatros. The company specialises in adventure marathons and holds some of the world's premier extreme races in exotic geographical locations and conditions among them, the Polar Circle Marathon in Greenland, the Karen Blixen Safari Marathon in Kenya and the Kilimanjaro Marathon. But its showpiece is the Great Wall Marathon, an annual event that started in 1999. "The Great Wall of China can be seen by astronauts in space. Running a marathon on it is an awesome experience," said Mari-Mar Walton of Australia. In five years, the Great Wall Marathon has grown to attract 1000 participants from 23 nations. For the inaugural Great Tibetan Marathon, the company had kept entries to a manageable size. "This was a test case but next year we plan to bring at least 500 people. Accommodating such a large group in hotels and taking them around requires a lot of infrastructure and we were testing the ground here," pointed out Albatros' owner, Soeren Rasmussen. After the breakfast run, the athletes spent the afternoon eating large quantities of pasta and other carbohydrate-rich food. They went to bed early that night for the wake-up call the next morning was at 3.30 am. By 4.30 am, athletes, officials, volunteers and mediamen piled into about 80 taxis that snaked their way up the winding road to the 350-year-old Hemis monastery as dawn broke.
The Ladakhi athletes arrived and made a round of the earthen courtyard, turning the prayer-wheels situated around it in an act of prayer. The lamas blessed each of the 110 participants in the marathon. The athletes put on their jersey numbers and electronic timer chips on their shoes while an electronic carpet was set up under a starting line banner decorated with Buddhist prayer flags. Ladakh's Chief Executive Councillor, Thupstan Chewang, arrived to inaugurate the marathon and then the runners were off to the sound of a goth, the huge horns used in Buddhist monasteries, instead of a starter's pistol.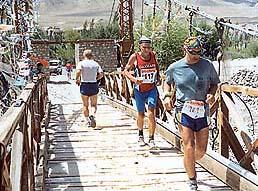 Most runners were from Denmark
Hemis monastery is at 3800 metres and the route—42 km 195 m—led downhill until it reached a plain. Then it meandered between small villages, until a stony section that was considered the most difficult part of the trail. Next were two bridges across the Indus and then a portion of swampy ground. This was followed by another bridge and a U-turn before the runners entered Spituk village—the finishing point—at 3400 metres. Three other races were held simultaneously: A half-marathon, a 10-km race and a 5-km race. The finish line was common for all. For the Ladakhis, who had been training under coach Sonam Angchuk for about four months, it seemed a cakewalk. Sonam Angdus astounded the organisers by completing the marathon in a timing of 2 hrs 54: 43. He was followed by Tashi Stopgias and Kunchok Namgyal. It was the first marathon for Angdus and Stopgias (both 21 years old) while the 20-year-old Namgyal had competed once earlier. All the boys led from start till finish. The Ladakhi girls in the marathon, Ishey Lhamo and Diskit Ladol, also came in ahead of the others. Both girls are 20 and have competed in the 5000 m and 10,000 m events in the national athletic championships. "But I am now going to switch to marathons because there are no running tracks in Ladakh," said Ishey. The Ladakhi talent also swept the half-marathon with Phuntchok Dorjee, Takta Sandup and Lobsang Dorjee taking the first three places among the men while Sonam Spalden, Rigzin Angmo and Tsering Dolma led the women. Angmo is the local star, having won marathons in Bangkok, Singapore and at the South Asian Federation Games in Kathmandu. "I opted for the half-marathon as I have not been training intensively," she explained.
Ahead of the race, there had been much anxiety over how the thin air would affect athletes. Australian athlete Mari-Mar Walton, who owns a travel company specialising in marathons, said after the race, "It was very tough. I was nearly panting while running." But most others said the Great Wall Marathon was more difficult. Among them was Danish runner Gunnar Ebbesen. At 74 years, the oldest among the participants, he preferred to run the half-marathon as he was saving his energy for the Berlin marathon the next month. "The Great Wall Marathon has 3560 steps and some of them are high and some low. This route was comparatively easier," he said.