Just Jassi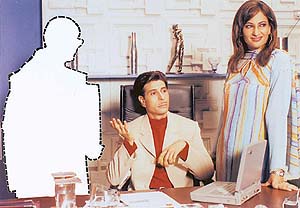 Jassi Jaisi Koi Nahin: Guessing game
It's party time at Sony Entertainment Television. And the lady who is rolling in the good times is the diminutive Jassi.
News is that Jassi Jaisi Koi Nahi, Monday to Thursday at 9.30 p.m., is a resounding success. Its appeal can be gauged from a survey that puts it ahead of soaps across all channels, including all of Ekta Kapoor's serials.
Though it may be early days but Jassi seems to have stolen a march over Karishma the Miracles of Destiny on Sahara and Ekta Kapoor's Kahin To Hoga on Star Plus. Unlike channels that go to town with their star cast, Sony has added an element of mystery by not disclosing the real identity of the person playing Jassi.
The simple gameplan has worked wonders and viewers — despite seeing her four times a week — have not been able to tell who she is. Wild guesses have ranged from Kajol to Perizaad Zorabian. But the channel is tight-lipped. After all it's been a long time since it had a big hit. Truly, for Sony Jassi Jaisi Koi Nahin!
Poll vault
Elections are round the corner in Madhya Pradesh, Chhattisgarh, Rajasthan, Mizoram and Delhi. Apart from the political parties guess who is gearing up to make the most of these polls? It's none other than the news channels which are bracing themselves up for this high-voltage event.
Star News had drawn first blood in this war of the airwaves. The channel comes up with Kaun Banega Mukhyamantri, Monday to Friday, 8.30 p.m., anchored by Vinod Dua in the company of election expert Mahesh Rangarajan.
The show has all what it takes for a round-up to the final frontier. Other than the regular analysis by opinion leaders and political commentators, there's the people-oriented Yatra where Dua reaches out to the general public discussing their problems.
There is also a special hour-long show on Sunday at 11 a.m. titled Aapka Hukm with more on elections. If politics excites you, then Star News is in the election mode and all set to take you on a rollercoaster ride.
Hitting the high notes
He sure is making his presence felt on the big and small screens. After signing two films, Chupke Se and Taj Mahal, Zulfi Syed is all set to make waves on television with a megaserial on Doordarshan.
"I'd like to act both in films and serials. Television is no taboo. Karishma, Amitabh and Govinda have shown the way and I am just following my seniors," says Syed all fired up with his new assignments.
The Gladrags supermodel has made his debut with a light-hearted comedy Chupke Se, where he plays a Bill Gates kind of a person whose software consultancy firm makes million. The film is doing reasonably well with the young crowd.
In his next release, Taj Mahal, he plays Shah Jahan and says he has a lot of expectations from the movie. "I prepared for over two months to play the role of the Mughal emperor," says Zulfi, a hotel management graduate.
The young man is keeping his fingers tightly crossed hoping that his about-to-be released film Taj Mahal too goes down well with the audience. He has the looks and a flair for acting. He knows if he scores two back-to-back hits there's nothing stopping him then.
Many-splendoured lady
In the summer of 1960, 26-year-old Jane Goodall arrived on the shore of Lake Tanganika in East Africa to study the area's chimpanzee population. Although it was unheard-of for a woman to venture into the wilds of the African forest, the trip meant the fulfilment of Jane Goodall's childhood dream.
Today, Dr Goodall is a world-renowned authority on chimpanzees and is the recipient of numerous awards, including the Gandhi/King Award for non-violence, the Medal of Tanzania, and the CBE from Queen Elizabeth.
In 2002, Kofi Annan appointed her as a UN Messenger of Peace, while in 2001 she received the National Geographic Society's Hubbard Medal "for her extraordinary study of wild chimpanzees and for tirelessly defending the natural world we share."
Her mission has taken Dr Goodall many times around the world and five times to China. Jane Goodall: China Diary, September 30 at 10 p.m. on the National Geographic Channel, documents her trips to China and introduces some of the fascinating people, places and animals of the country. Meet the extraordinary anthropologist of our times in this fascinating programme.
— Mukesh Khosla