Rock around the clock
They're young....they're talented... and they're raring to go! Channel V is all set to rock the nation all over again this time with a brand new mixed group of Kudis and Mundas.
The four-member band comprising Sangeet, Jimmy, Neeti and Vasudha are all shook-up about their first performance on October 11 at Mumbai.
In Delhi recently on their promo tour, the foursome seemed completely in tune with the college frat as they belted out some songs from their debut album Tumse Hai Pyaar, including Jeetne Walon Ko Tum Pehchan Lo written by band member Vasudha.
They say they are all prepared to live out of suitcases as they would be travelling from city to city for live performances and concerts. And amidst all this glitz and glam they all dream of becoming big-time pop stars—- despite the dwindling fortunes of Viva—Channel V's 2002 all-girl band.
But Viva is far from their mind as the four brace up for their all-important live performance in Mumbai. After that, as Sangeet puts it, "The world would be our stage!"
Striver & achiever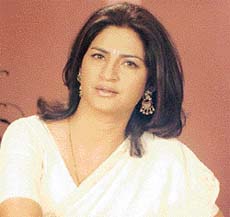 Kunika: Star producer
She's out to prove that she's not just a pretty face but a face with a brain to match. Many would associate Kunika only with vampish roles after watching her play the scheming Vasundhara in Kittie Party. But in real life she'd like to be known as small screen's dark angel with a heart of gold.
" I think I erased the vamp image by hosting Strivers & Achievers that brought together mentally, physically and situationally challenged people determined to change their lives. She is also doing positive roles in films like Kyon, Insaaf, Wah Wah Ramji, Dil Churake Chal Diye and Taj Mahal.
But now Kunika is playing an altogether different role—-that of a senior producer in charge of news content in Sahara Samay Mumbai. The proposed Hindi news channel will have, besides the regular news bulletins, talk shows, human-interest stories, style and fashion features and Bollywood news.
She will also be hosting a daily talk show and presenting some news bulletins through the week. "I am really thrilled to join the Sahara Parivar," says the lady who has acted in 18 serials and over a hundred films in a career span of over 18 years.
And no, it's not goodbye to films and television. " I'll juggle all three together. Knowing the punishing time schedules of a producer she'd have to be quite a juggler to keep so many balls in the air.
Carry on doc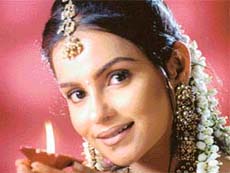 Gurdeep Kohli : Star material
She's never hankered after roles. And you better believe her. For almost two years now, Gurdeep Kohli has played just one role—that of Dr Juhi in Sanjeevani on Star Plus.
Over the last few months, her character has evolved in many different hues. From a frivolous young doctor she has matured into a thinking person who not just handles the lives of her patients but manages her own life intelligently as well.
A few years ago, little could this JJ School of Art graduate have imagined that her girl-next-door looks and a disarming smile would fetch her some plum modelling assignments including Ponds, ICICI, Baazee.com, Cadbury's, Ariel and Nestle before being offered Pankaj Udhas's music video Kya Mujhse Dosti Karoge.
But ever since she started playing Dr Juhi there's been no looking back. Her versatile acting skills have not gone unnoticed and she says she is already being considered for film roles by Yash Chopra and Barjatiyas.
Which is why she is so selective about TV. "I want to take my own sweet time getting there on top. I don't want to get lost in the Saas-Bahu genre so early in my career." At least someone there has the grit to thumb down Ekta Kapoor!
Young, pretty & single
Brace up for a bellyful of laughter on Saturday nights on HBO. Sex And The City, an original HBO production that has been nominated for over 100 award categories is all set to tickle the funny bone of Indians.
Based on a book of the same name by Candace Bunshell, this is an adult lifestyle comedy that peeks into human relationships through the eyes of four single, glamorous ladies living in Manhattan.
The series reveals the joys and difficulties of searching for a Mr Right in the big bad city. All four of them hope to someday find the man who would bring them a lasting bond, which they have always desired.
Many young professional girls would instantly identify with the four characters. And all guys wanting to unravel the mystery of the modern woman's mind, should better get used to staying up late Saturday nights.
No space for secrets
On its journey back to mother earth the American space shuttle Columbia crashed in mid-air, resulting in the death of all six astronauts on board. An inquiry was set into the matter but the findings were never revealed, they remained a safely guarded secret.
It's not for the first time that casualties have occurred in space explorations and secrets being guarded, it has been a tradition since ages.
National Geographic now removes the layers of mysteries and takes a sensational look at the secrets of not the American but the Soviet Space programme in Red Spaces #2 Secret Space on October 7 at 10 p.m.
During the Cold War, the Soviets and Americans raced to have the most advanced space programme. Recently released reports from the former Soviet Union reveal that lives were lost and mistakes were made that had previously been known.
This film reveals that had the Americans known of the mistakes made by the Soviet Union, then they would have prevented the loss of 165 men during a missile launch and the life of a young man who, for an experiment, closed himself in an oxygen capsule and died on the fifth day due to a spark that caused fire.
Now it's your turn to know these closely facts which won't be any secret after October 7. So hurry and book your date with NGC and enjoy the secret mission.
— Mukesh Khosla