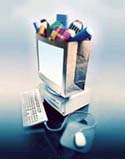 The Net shopping experience
by Roopinder Singh
WHY do people shop on the Net? To find bargains, of course. No matter what they tell you, most of the people shop online to stretch their rupee. An increasing number of Indians are taking to this mode of shopping and they say that they are gainers. Recently, a sale hosted by Baazee.com, one of India's biggest online shopping sites, of music recorded by practically all big Indian and international companies, generated much interest. Other significant players in India are Rediff.com, Indiatimes, Fabmall, and Sify.com


Campus recruitment looks up once more
Imran Qureshi
IN a sign of continuing large-scale outsourcing to India by global corporations, a host of local IT firms are rushing to pick up larger than usual number of students from engineering colleges this year. After the spectre of selective hiring in the IT industry last year as firms grappled with the shock of a demand slowdown in the global tech market and backlash against outsourcing, its recruitment time again for software makers.

'Son of Alladin,' India's step in 3-D animation
"SON of Alladin", a 90-minute 3-D film released in the US a couple of weeks ago, was released in Chennai in September-end. The movie, from the house of Chennai-based animation giant Pentamedia Graphics, is expected to get a worldwide release soon.

Laptops to run whole day
INTEL, the world's largest semiconductor maker, expects that in just a few years laptops will run for a full day on a single battery charge, thanks to improvements to its new Centrino chip.

TRENDS
PC looks get a makeover
A final death knell for boring computers housed in bland metal cases may be years away, but a group of up-and-comers is ushering in a new breed of small, stylish models that look just at home in the living room as the office. Many of those newcomers were on show in Taiwan at Computex, the world's third-biggest PC trade fair, in the last week of September, with models cased in racy cartoon covers, plexiglass and miniature frames beckoning the design conscious.
IT WIT
by Sandeep Joshi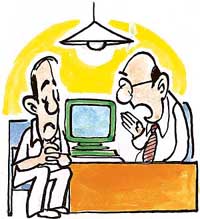 Too much browsing has made your brain crash? I'll suggest a good site precisely on this problem.


10 Indians on MIT's top-100 list
TEN young innovators of Indian origin have been named in the Massachusetts Institute of Technology's (MIT) Technology Review 100 (TR100) since their "technologies are poised to make a dramatic impact on our world".

Satellites to track paedophiles
Jamie Doward
PAEDOPHILES are to be electronically tagged in the UK for the first time in a move that could prompt a revolution in the treatment and monitoring of sex offenders. A British company is to hold talks with ministers with a view to launching a Home Office-backed trial involving between 100 and 500 child sex offenders. It is also talking to government officials in the US, Italy and Ireland and is to tag a number of paedophiles who have volunteered to wear the device.

Sony sets out to rediscover its lost magic
Daisuke Wakabayashi
IT was 25 years ago when Sony Corp founder Masaru Ibuka complained that his cassette player was too heavy to take on business trips and asked the company's engineers to create a smaller, portable player with headphones.

Internet music sales to hit industry hard
Prasun Sonwalkar
THE value of lost sales to the music industry from file-sharing Internet networks will nearly double in the next five years, says a new market report in London. The loss from networks such as Grokster and Kazaa will nearly double over the next five years to $4.7 billion.
Free software makes sense in education
Frederick Noronha
RIZA is nearly five. For her, the computer is a toy. Instead of adding one more difficult 'subject' to her tiring school day, she occasionally plays educational games on the PC. When her friends come over, they end up learning without even being conscious of it. One girl her size, who has never handled computers below, drags on the mouse. As she moves it across the mouse-pad, the image of a furry bear gets jerkily unveiled on the monitor.