Memory lane
M. N. Sharma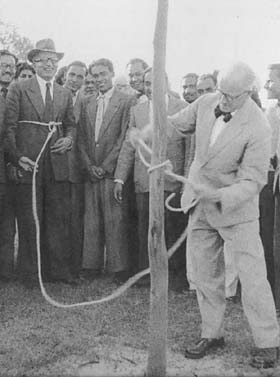 Corbusier playfully ties P. N. Thapar to a tree.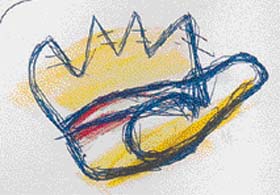 His preliminary sketch of the Open Hand Monument.
LE CORBUSIER had already gained worldwide recognition for his revolutionary ideas on town planning and architecture before he accepted the assignment for planning Chandigarh and designing its monumental and historic buildings. In doing so, he put Chandigarh on the world map. The works created during the past 15 years of his life made him the greatest architect of the 20th century.
It was indeed a rare privilege to work with the great master and observe him from close quarters. There are more books written on Le Corbusier and on his works than on any other architect and yet not enough is known about him.
Le Corbusier was a multi-faceted personality. Scholars are still striving to fathom his mind from his writings, paintings, sketches and great architectural creations. But they know little about Corbusier himself. The very few who knew him as a man and a creative genius were very reticent and respected his privacy.
During his biannual visits, very few of us had the privilege of being with the master at P.Jeanneret's residence and of listening to his views. There were practically no discussions as we tried to assimilate each word spoken. While his mind remained tuned to higher realms of creation, nothing escaped his notice as he was a great observer of life. He always carried in his safari jacket a notebook, sketch-pen, coloured pencils bound by a rubber band and a small knife. He made sketches and notes of anything of significance to his fertile mind. These he recorded with the dates and places of observation, some of which appeared in Corbusier's works.
He preferred the use of primary colours. Colours had a special significance for him. For the layout plans, he liked us to use red for the roads, yellow for pedestrian paths, blue for water and green for grass.
He never uttered a word or drew a line without great significance. Corbusier had absolutely no spare time. He often compared himself to a donkey who toiled very hard for a living. Corbusier expected his associates to work equally hard, with full devotion and understanding. He was an excellent judge of the people he came across and never spared time for the undeserving ones. He judged architects who assisted him for their overall performance and proven creative abilities. Corbusier rewarded his assistants with his original sketches and lithographs as a gesture of appreciation. I consider myself lucky to have received some.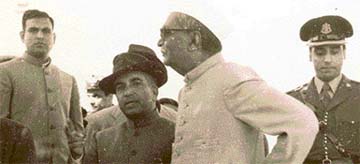 President Rajendra Prasad at the inauguration ceremony

The invitation card for the event
Corbusier was exceptionally kind, like no other of his stature I have ever met. During a meeting with top Government of India officials which I attended with Corbusier, he reminded me several times that I must not miss my bus for another appointment in Delhi. Once, during Corbusier's visit to our house, our son Manu, who was aged three then, stood next to him to get his attention. He spoke to Manu very kindly and then put his hand in his safari jacket and presented Manu with a sea-shell which was among his valuable possessions.
I took over as the Chief Architect of erstwhile Punjab and Chandigarh in July, 1965, after P. Jeanneret and in August that year Corbusier died suddenly. It was the gruelling training of 15 years that gave us the courage and confidence to continue with the of building Chandigarh.
No many people know that Corbusier was also a passionate painter, sculptor, philosopher and a great communicator. Corbusier was much ahead of his times.
Space, light and volumes were the basic elements in Le Corbusier's creations. The statements made in diverse materials distinctively reflect his own innovations of timeless quality. When he was at the pinnacle of his career, his thoughts were moving to the higher realm of global lanning, pollution of the biosphere- where architecture had to fit in the much larger pattern of technological evolution. Le Corbusier has left a deep imprint in history and his works will continue to amaze and inspire posterity.
— As told to A.S. Prashar