ARTSSCAPE
Trinkets for festive season
Smriti Kak
Tanishq has launched a new range of jewellery for the Divali celebrations. The festive range collection comprises the ethnic gold collection, the enamel and diamond collection, the paisley collection and the diamonds and coloured stones collection. The ethnic gold collection offers sets in more than 60 designs, the collection is inspired by the glory of the sun and special polishes have been used to create a new look.
The enamel and diamond collection is an amalgamation of rich geometric lines and angles with the softness of colours in solids or grading hues. The collection also boasts of 60 designs.
The Paisley collection has over 140 designs and is rendered in a contemporary motif, which uses various aspects of mango motif put together in opposite directions in yin-yang or turban ornaments of yesteryears.
The diamond and coloured stone collection combines rubies and diamonds set in gold. This is again a collection that fuses old with new and offers over 150 designs.
Contemporary style and traditional designs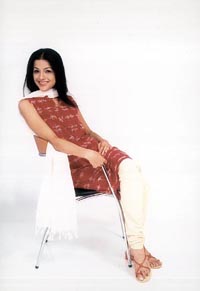 'W' weaves ethnic prints in contemporary styles.
Indian art forms, including Phulkari, tribal motifs and Paisley have, inspired the latest collection put by W. The collection is a fusion of contemporary styles and traditional designs.
The colour palette includes pastels as well as intense hues of red, yellow and pink. Shoppers can pick from Phulkari kurtas with geometric dobbies in bright colours, tribal motifs depicted through woven borders and highlighted with solid pastel colours.
Inspired by the William Morris prints, there are kurtas with flower and leaves prints, the paisley prints and the evergreen tie and dye in bright colours.
A copious amount of colour in this collection
Lee Cooper has announced the launch of Original European Autumn Winter Collection 2003. The collection has a palette of colours in brown, brick, fawn, retro, almond besides blue, black and ebony.
The textures are thick slubs, hi-low indentations, crinkles and basic denim structures. The highlight of the collection, what the makers claim is weathered look jeans with torn stitched details and long jackets. The collection also offers a range of mixed lycra jeans; low waist jeans and enzyme washed shirts, kurtas styles and sweaters.
The stylised bottoms are replete with variations like slant pockets, contrast piping details, stylised coin pockets, reverse fabric piping and fine detailing like side slits, pin tucks and patched look.
The collection also includes sandblasted, over dyed, tinted, enzyme washed shirts in fabrics ranging from illusionary and diagonal checks to printed crushed fabrics as well as stripes. Sweaters in two-tone effects, engineered stripes and crew necks are also available.
Trigger also unveiled their new collection of denims. The collection has satin wear, cross hatch, Blue Square and sandblasted variety. The collection also includes cotton trousers and denim and non-denim range of trigger shirts.
The tinted slub denim has five pockets in various fits and sizes in five shades of blue and various washes. The sun blasted denim has three shades while the satin denim has smooth silky denim with a dash of sheen.
AAA launches aerobic trainersí programme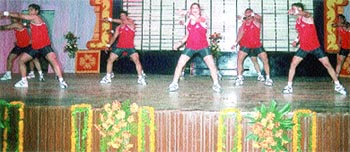 Students of Aerobic Activity Academy performing aerobic exercises.
To enhance fitness, the Aerobic Activity Academy (AAA), an aerobic training and consultancy institute, has launched an aerobic trainersí certificate programme at the Gym, the Hudson Line.
The objective is to improve the quality and standard of aerobic trainers in the fitness industry.
The course is spread over two months covering theory as well as practical classes. The course is being conducted by Ana Singh, a qualified trainer herself.
Wedding collection from Pitambari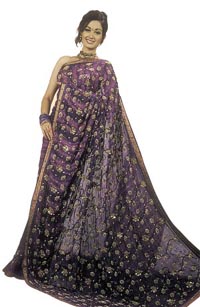 Models in Patambari's Fall Winter Collection.
Pitambari has launched its collection of wedding saris. The Fall Winter collection has saris in vibrant colours for the weddings. Traditional textures of crepes and silks have been worked upon. There are crepes are available with sequins and brocade work.
A range of lehnga cholis in tissue and brocade are also available. Banarasi silk with exquisite embroidery and stone work has also been used for the lehngas. A rang of semi-formal saris with resham and zari work is also on offer.
P P opens second design estate
P P Jewellers launched their second design estate in the Capitalís Pitampura. Spread over five floors, the mall has a vast range of clothes and accessories for shoppers.
The basement has womenís clothes, a revolving centre on the floor, has been used to display ethnic wear.
The kidsí section has a toy train displaying the accessories for little ones and three miniature buses have been used to store toys.