Tuesday, October 14, 2003, Chandigarh, India



B U S I N E S S
GE, Bechtel offer to start Dabhol
New Delhi, October 13
GE and Bechtel has offered to restart the Dabhol Power Company and in a letter to the Indian Financial Institution's (IFI) committee they said they were "willing and ready" to restart phase I and complete phase II of the project.
Clarify order on oil firms, Govt to SC
New Delhi, October 13
The Centre today pleaded with the Supreme Court to clarify its judgement halting the investment in HPCL and BPCL on certain aspects, saying it has created "uncertainity" about the entire disinvestment process.


Now plots for sale on moon
Melbourne, October 13
Now here's a gift that's really out of this world. A new real estate agency, Lunar Realty, based in Melbourne, opens its doors tomorrow selling one-acre blocks on the moon for $ 59 (Australian) and 10-acre "lifestyle" blocks for $ 298 (Australian). Businessman Paul Jackson, 33, announced today that he had bought the Australian rights to sell the land from Nevada-based entrepreneur Dennis Hope.
Today is World Standards Day
Working on uniform global standards for consumers
Economists and politicians feel that the future industrial world will soon be concerned more with technological wonders of an expanding world of information general and specific. Information is today considered an important resource and therefore information technology has attained a strategic importance.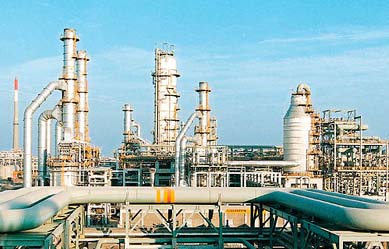 A February 2003 file photograph shows the Reliance Industries petrochemical plant at Hazira in Gujarat. Reliance Industries, India's largest petrochemical producer, is set to report their quarterly profit that rose 22 per cent on improved margins and higher sales, analysts say. — Reuters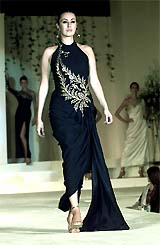 A model presents a creation by Turkish designer Zuhal Yorganzioglu in Lahore on Sunday. Inspired by Ottoman and Turkish motifs, the fashion show aimed to strengthen cultural ties between Pakistan and Turkey. — Reuters

Aptech plans to enter formal academia
October 13, 2003
JK Tyres to spend 100 cr on modernisation
October 12, 2003
Infosys profit grows 33 pc
October 11, 2003
India, Thailand sign free trade pact
October 10, 2003
Govt expects 8 pc growth
October 9, 2003
India's steel exports to China grow by 101 per cent
October 8, 2003

No decision on splitting IOC, says Ram Naik
October 7, 2003

Good export potential for electric cars, says Maini
October 6, 2003

Investment not linked to abolition of quotas, says Oswal
October 5, 2003
ONGC pays Rs 3,598 cr dividend to government
October 4, 2003