Monday, October 20, 2003
Feature
Meghalaya youth finds IT difficult to connect
Peeyush Agnihotri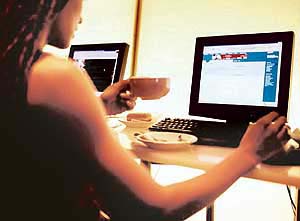 THOUGH Meghalaya, an otherwise resource rich state, is quite advanced on many fronts, it has been a laggard of sorts in Information Technology (IT). Those signals from cyberspace knocked at the door of this abode of clouds a wee bit late when the IT boom was receding worldwide.
Frankly, the romance of Meghalaya-ites with IT has just begun. Like any post-honeymoon couple, there are adjustment issues and they are still busy thrashing out preliminary concerns. Connectivity is poor and till date there is just one GSM mobile service provider (Reliance). They too were not providing new connections last month because of an alleged 'company-consumer' spat.
Nevertheless, the progress on IT front has been fast. A lot of cyber caf`E9s and IT educational institutes dot Shillong and youth is lapping up the packet of chips and bytes. Most of the youth brigade is experimenting with the Web concept and are logging on to seek friends from mainland India as well from abroad. Chat is a rage there.
PC knowledge is inversely proportional to age. Kids are more tech-savvy than the adults.
"Youth access the Net to connect to the outside world and seek friendship outside the North East. The Net is still in exploratory stage and kids are better with the keyboard as compared to their parents," says Q. Lyngdoh, a manager with Meghalaya Tourism hotel.
This experimental stage borders to voyeurism too. Signboards at cyber caf`E9s warn Netizens against treading into the world of porn. Like the one that adorns Alfie's cyber caf`E9 in Police Bazar reads: "Anyone found seeing naughty sites will be fined Rs 500 as sweet fine."
But Bahlit, who manages a cyber caf`E9 in Laitkumrah, vehemently denies this phenomenon that according to him is an exception rather than a rule. "The punishment is severe and anyone found indulging in such an act is handed over to Gaubras (locality heads). He, however, agrees that it's the chat and friendship phenomenon more than anything else that binds the Meghalaya Netizens.
Connectivity is a major problem. Most of the cyber caf`E9s run on dial-up connections and the major ISPs are Dias (BSNL) and SSNetcom. "Cyber caf`E9s started as a phenomenon nearly two years ago and there are nearly 50 of them here in the state capital," says Biman Deb, owner of Cyber Station, a cyber caf`E9. Deb says that he gets nearly 40 customers daily and almost all of them are in 16 to 25 age bracket.
Large hoardings in whole Shillong invite youngsters to join computer courses. Web-based courses are popular in this state capital that has earned the sobriquet of being the Scotland of the East. "Students are exposed to IT education and most of the college-going students opt for such courses that have been slotted after college timings," says Ram N. Banerjee, centre in charge, NIIT Shillong centre. Ram, however, rues that the attitude of the youngsters is not quite 'job-oriented.'
As far as the thrust of e-governance is concerned a lot is being done. But very less PC penetration in the state is a major roadblock. "Multiple IT projects are running in Meghalaya, block wise and e-governance tools are already in place. IT education has reached school-level," says Shekhar, a senior system analyst with National Informatics Centre (NIC).
Timothy Dkhar, State Informatics Officer, NIC, says that a lot of major e-governance projects have been taken up in the state. These include CIC (Computer Information Centre), Budget information system, treasury, state library and transport computerisation. "But low PC penetration and less fund inflow from the Centre is holding the implementation of e-governance down," Dkhar says.