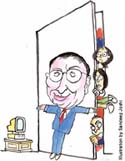 Gates shuttering down chatroom irks Netizens
Aditya Rishi
SOME time ago, the police had cracked down on all discotheques and pool joints in Chandigarh because these were allegedly frequented by pimps and drug peddlers. How did shutting down these joints put a lid on these illegal activities, the police could never tell. Now Microsoft has closed down the Internet chatrooms run by its MSN online service in a few select countries "to deter child abusers and junk-mail peddlers." Maybe, that's Microsoft's idea of "policing".



Meghalaya youth finds IT difficult to connect
Peeyush Agnihotri
THOUGH Meghalaya, an otherwise resource rich state, is quite advanced on many fronts, it has been a laggard of sorts in Information Technology (IT). Those signals from cyberspace knocked at the door of this abode of clouds a wee bit late when the IT boom was receding worldwide.

IT WIT
by Sandeep Joshi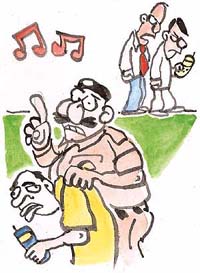 You better change your Dardi Rab Rab... ringtone! Anything to do with Daler Mehndi is suspect now!

Napster is a paid site now
Derek Caney
THE name is the same. The game is a little different. Napster, the file-swapping service that set music fans on their ears and sent the music industry into apoplectic fits, is resurrecting itself as a pay service two years after its free service collapsed under the weight of lawsuits.

Pakistan, the hotbed of piracy
ACCUSING Pakistan of being one of the world's leading software bootleggers, the International Intellectual Property Alliance (IIPA) has asked the US to suspend trade benefits to it, reports OneWorld.net. The alliance has also filed a petition with the US government to evaluate whether Pakistan continues to qualify for trade benefits under the generalised system of preferences (GSP) as the pirates of cyberspace have a free run here.


International certifications get popular
Ashwani Singla
WE are well aware about the tremendous potential of networking. Networking makes it simple for persons across the globe to access and transfer information without regard to differences in time, place or platform. The need for movement of information has given rise to a more diverse and networked world.

Leading cartoon channel selects kids' stuff
Arvinder Kaur
SO obsessed are Indian children with toons and animation that they are now designing their own original cartoon characters for TV networks, complete with name, personality, family, enemies if required, and superpowers if any.