Monday, October 20, 2003
Feature
Leading cartoon channel selects kids' stuff
Arvinder Kaur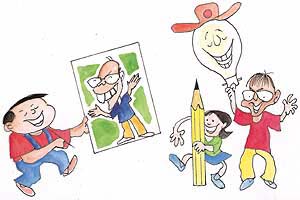 Illustration by Sandeep Joshi
SO obsessed are Indian children with toons and animation that they are now designing their own original cartoon characters for TV networks, complete with name, personality, family, enemies if required, and superpowers if any.
Twelve-year old Abhishek Dutta from Kolkata has created Madloo, a 40-year-old funny man who loves controlling traffic and dislikes traffic policemen. His best friend is a street dog, Chhottu, and his one wish is to see the world full of green.
Thirteen-year old Deepa V. Matrapati has created Leo, a magic pencil, which can walk and dance but hates to write. Leo's favourite food is carrots and his best friend is an eraser and his enemy the sharpener.
Rohit Salian from Mumbai has created an electrical creature that wishes to brighten the whole world. Bulby wears a special cap, a red show and carries a big smile on his face. His best friend is a tube light and weakness low voltage and power failures.
Incidentally, all these characters have been selected by a leading cartoon channel, which plans to make toons based on these characters.
The tryst of Indian children with cartoons and animation started with Mowgli more than a decade back. Since then there has been no looking back. While international toons like Dexter, Scooby Doo are all time favourites, Indian toons based on Ramayana, Pandavas, Sindbad, Tenali Raman and Hanuman are equally popular, Anshuman Misra, managing director, Turner International India says while talking to PTI.
"Kids here find cartoons appealing as this medium transports them to the magical and make believe world of toons. Moreover, cartoons provide children with a positive channel outlet for their imagination and propel them to tap their inherent creative potential," says Nikhil Mirchandani, executive director strategic marketing, Cartoon Network India.
Cartoons transcend all language and cultural barriers. They appeal to children across the world and identify with them, says Mirchandani, noting "the popularity of cartoons can be gauged from the fact that over 2,30,000 entries were received for the Network's recently organised Next Big Toon contest."
"This indicates that kids relate to cartoons irrespective of their nationality, race and species," he says, noting the main aim is not just entertainment but also edutainment. Through our characters, we try to encourage positive behaviour, social etiquettes and good habits. Cartoons encourage learning, they are not culturally insensitive and there is always an underlying message that good prevails over evil, says Mirchandani.
"We recently conducted a survey on what Indian children preferred and found animation and action were very popular. They also liked animation based on Indian characters and stories as it was a part of their culture," says Ian Diamond, senior vice president, Turner Entertainment Networks Asia, Inc.
Kids in India have been fed on a regular diet of all that is American in cartoons. But of late it is the Indians toons that have become a rage with them. The animation companies are cashing on this and are coming out with toons based on mythological characters.
International cartoon networks in India too have started local acquisition drives and are also outsourcing animation works to India. The animation industry here touched new heights of achievement with Sindbad which showed the latest in animation technology.
The latest to hit the screen, however, is going to be The Adventures of Chhota Birbal - a fictional take on a time when both Akbar and Birbal were kids.
However, it all does not end here for Indian kids and Mirchandani says shortly small animated films based on the five selected entries would be telecast on their network.