ARTSCAPE
A perfect blend of two old and sophisticated cultures
Ravi Bhatia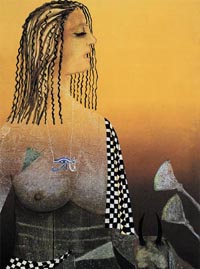 A painting by Anjolie Ela Menon.
UTTARAYAN, Baroda, and The Visual Arts Gallery, India Habitat Centre, presented a unique art exhibition and seminar called, 'Mappings'. The exhibit and seminar was the culmination of an 'Uttarayan', an art organisation based in Baroda. Fifteen eminent artists drawn from all parts of the country went on an expedition of discovery to Egypt with the gallery. The exhibition showcases their work that illustrated the different trajectories and the external and internal spaces of these individuals.
Speaking on the occasion, Mr Rakesh Agrawal, Managing Director, Bayer ABS Ltd., said: "Through this exercise, an effort was made to renew links between the two ancient civilizations of Egypt and India. These two civilizations have enriched world culture with their invaluable contributions to the sciences and arts, and now a marriage of influences have helped in creating something unique and special."
Speaking on the occasion, Dr Alka Pande, Consultant, Art Advisor & Curator of The Visual Arts Gallery, said: "This effort was an interesting journey that encompassed travelling through ancient civilizations and imbibing universal spirits. Art need never be confined to boundaries and these works of art on display here reflect that freedom. The perfect amalgamation of two old and sophisticated cultures has lead to the creation of cutting edge art that is a wonder to behold."
Photographic search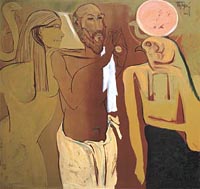 An artwork of Jatin Das.
An exhibition of ace photographer Naresh Sharma, 'Melting Emeralds and other Phenomena' was displayed at Habitat World Centre in the Capital recently.
The works of Naresh were crystalisation of years of photographic dialogue with nature. Using his instinctive eye for the unusual and his favourite micro-lens, Naresh has picked out fascinating details of flowers, foliage, butterflies, clouds ...and wrought them into visuals, which are neither quite photographs, nor quite paintings.
Many of these frames by Naresh are lyrical, like 'Melting Emeralds', 'Falling Diamonds', 'Pink Clouds, Butterfly and an Echo' - many sensuous like 'Focal Point' and 'Red Lips', while many other like 'Reaching Up', 'Dunes', 'Diagonals' and 'Horizontals' are bold and dynamic.
Most of these evocative creations no longer bear traces of their origin, though they bear names, which the artist means to be mildly directional; he wishes to allow his audience the freedom of interpretation. Naresh has coined a likely name for the technique of these paintings – 'Micro-photo Painting'.
Naresh Sharma is a senior photographer with The Indian Express Newspapers (Bombay) Ltd, presently posted in Jammu.
A commerce graduate, he has been professionally active in the field of photography since 1980. Before joining Indian Express, he did freelance work for Times of India, Navbharat Times, Hindustan Times, Rashtriya Sahara, Malayalam Manorama, Dharmyug, Delhi Press, Amar Ujala, Mitra Prakashan, Deccan Herald and various other national publications. He also did still photography for CPC, Doordarshan and Doordarshan Kendra, New Delhi. For the past few years, he has been actively participating in photography exhibitions. His involvement with nature photography, coupled with the contemporary orientation of his mind, has lately led to his discovery of the power of technology as a tool for creative photography.
Colours of life
Young and upcoming artist, Kajal Nalwa, is holding her third solo exhibition from October 26 to November 1, at the Lalit Kala Akademy here.
The main theme of the exhibition is nature in which the artist excels by translating nature into art forms through effective use of colour. In addition to this, Kajal is known to depict women in harmony with their surroundings. Her earlier exhibitions and group shows have come in for appreciation from critics as well as the general viewers.
Asli Baap
For the first time in the history of remix music, a legend has set out to break all the rules. Bringing a new twist to the remix controversy, Bappi Lahiri has himself produced 'Bappi Music'. The audiocassette consists of a total of ten songs that get you gyrating to the legendary and path breaking beats of Bappi Lahiri in his inimitable style.
Booklet on Lakshmi Puja
Hindi Pocket Books has introduced a unique Lakshmi puja set that takes one step by through the authentic and complete Lakshmi Puja. A twin set of a booklet and audio tape, it makes for an appropriate pick this Divali. Lakshmi Puja also available on CD.
I'm Not Sheikh Chili


To commemorate HelpAge India's 25th anniversary, a play was organised at India Habitat Centre recently. The play, 'I'm not Sheikh Chili', was a part of HelpAge India's fund-raising activities for the underprivileged elderly.
Avijit Dutt, who is the director of the play, has been recently selected by Sahitya Kala Parishad as the Best Play of year 2000.
A still from the play 'I'm not Sheikh Chili'.