Judeo out, CBI probe on
Naidu sees conspiracy
Tribune News Service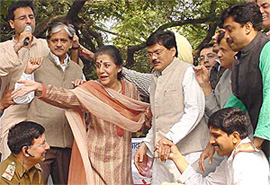 Indian Youth Congress President Randeep Surjewala, Congress leaders Anil Shastri, Ambika Soni, Mukul Wasnik Ahmed Patel, Delhi Youth Congress President Rajesh Lilothia along with Congress workers stage a demonstration against Union Minister, Dilip Singh Judeo in front of the AICC office in New Delhi on Monday. — Tribune photo by Mukesh Aggarwal
New Delhi, November 17
In a damage-control exercise a fortnight before the crucial assembly elections in four states of the Hindi heartland, Prime Minister Atal Bihari Vajpayee today accepted the resignation of Minister of State for Environment Dilip Singh Judeo and ordered a CBI inquiry.
The BJP leadership firmly believed that prompt acceptance of Mr Judeo's resignation had become imperative after allegations of the minister accepting bribe hit the spotlight countrywide.
There was a high-power meeting at the Prime Minister's residence in the forenoon, where it was decided that an inquiry had become necessary to put the record straight.
Despite assertions by the party leadership, including Human Resources Development Minister Murli Manohar Joshi and BJP president M. Venkaiah Naidu, that the VCD had been doctored, there was widespread apprehension in the saffron brigade that this could have an adverse impact in Chhattisgarh, Madhya Pradesh, Rajasthan and Delhi, where assembly elections are due on December 1.
"Only the results will tell what impact the Judeo episode will have," Mr Vajpayee observed.
It is apparent that the leadership is of the view that the alleged bribery scandal has put the BJP on the backfoot.
Mr Naidu spoke of a conspiracy by vested interests to defame Mr Judeo after meeting Mr Vajpayee. This was particularly so as nobody had owned responsibility, he said.
Accepting Mr Judeo's resignation was the only option open to the BJP after Mr Vajpayee's assertion that the BJP-led NDA had always ordered a probe into allegations of corruption and was not in favour of banishing anyone without being proved guilty.
The exigency of the upcoming elections, which is being touted as a semi-final before next year's General Election, has forced the BJP to act promptly against Mr Judeo, whose prospects of being a chief-ministerial aspirant in Chhattisgarh had been relegated to the background.
Despite putting up a brave front, sources in the BJP felt it was just a stroke of luck that the party had not named anyone as a chief-ministerial candidate for Chhattisgarh. They felt the damage could have been multifold had Mr Judeo been named as the chief ministerial candidate and the allegations of kickback against him had come out in the open after that.
There have been intense fire-fighting operations under way in the BJP with Mr Vajpayee embarking on a campaign trail from tomorrow. He is launching the party's campaign from Bikaner and Udaipur in Rajasthan.