In Education Tribune today
THE TRIBUNE MAGAZINES
On alternate Mondays

On Sundays
On Saturdays
IN PASSING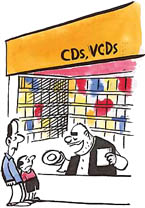 You want something with action, horror and villainy? Try this latest Judeo CD.
by Sandeep Joshi
World page: Return of the sun-eating dragon



This digital photo taken on November 4, 2003, with NASA's extreme imaging telescope aboard the SOHO satellite shows the most powerful solar flare ever by orbiting instruments, according to the space agency. — AP/PTI
SC agrees to reconsider HPCL judgement
New Delhi, November 17
For the first time, the Supreme Court today agreed to have a fresh look at its recent judgement on HPCL and BPCL sell-off cases holding that the privatisation of PSUs created by legislation required the prior approval of Parliament.
Singer Bindrakhia dead


Mohali, November 17
Internationally renowned Punjabi folk singer Surjeet Bindrakhia (43) died in his sleep at his residence here early this morning. The singer was suffering from a health problem for almost an year now and was said to have died of a heart attack.
Chandigarh Tribune: Bindrakhia's neighbour remembers him
Panchayat Secretaries reinstated
Chandigarh, November 17
As many as 470 Panchayat Secretaries will be given appointment letters by the Punjab Panchayati Raj and Rural Development Minister, Mrs Rajinder Kaur Bhattal, at a function here tomorrow.


Pak ready for talks under Simla pact
Islamabad, November 17
Pakistan said today that it was ready to talk to India to resolve Kashmir and other outstanding issues under the Simla Agreement and the Lahore Declaration. Referring to Prime Minister Atal Bihari Vajpayee's remarks in interviews to Syrian newspapers that the Kashmir issue should be solved bilaterally through the Simla accord, Pakistan Foreign Office spokesman Masood Khan said his country had "no problem with it either."
Judeo to go if found guilty, says PM
November 17, 2003

Israeli troops must pull out, says Vajpayee
November 16, 2003

India to base planes in Tajikistan
November 15, 2003


Stop terror influx, Russia tells Pak
November 14, 2003


PM, Putin vow to fight terror
November 13, 2003


Russia for lifting N-sanctions
November 12, 2003

SC stays arrest of journalists of
The Hindu
November 11, 2003

Suicide bombers kill 11 in Riyadh
November 10, 2003

Press across nation rallies behind The Hindu
November 9, 2003

Death penalty for Sushil Sharma in 'tandoor' case
November 8, 2003


19 hacked, burnt in tea garden clash
November 7, 2003