M A I N N E W S
Singer Bindrakhia dead
Tribune News Service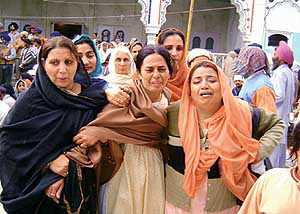 The wife (centre) and sister (right) of Surjeet Bindrakhia are consoled by relatives at his cremation in Ropar on Monday. — Photo Lalit Mohan

Mohali, November 17
Internationally renowned Punjabi folk singer Surjeet Bindrakhia (43) died in his sleep at his residence here early this morning. The singer was suffering from a health problem for almost an year now and was said to have died of a heart attack. According to his family members, Bindrakhia had been hospitalised more than two times in the last one year and had again remained admitted to a local nursing home for 10 days this month as well.

According to persons present at his house this morning, Bindrakhia had slept early last night and had got up at 3 am to have a glass of water after which he took a stroll in his garden and went back to sleep. But when his wife tried to wake him up in the morning at about 7 am, he was dead. A family doctor was called who confirmed the news.

Bindrakhia had shifted from his village in Ropar to Mohali three years ago and lived in Phase VII with his wife Preet, son Gitaj (11) and daughter Meenaj (9). His widowed mother Gurbachan Kaur used to visit them from the village on and off. Both the children were studying in YPS School, Mohali. His wife is a housewife. ''The family used to keep to themselves but we did come to know that he is ill due to the frequent visits to the hospital,'' recalls Mrs Bhutter, a neighbour.

His domestic help Khatteem said that only last night he had met some persons from Ludhiana for the booking of a show. Due to ill health, Bindrakhia had not been performing on stage for some time now and his last stage show was during his visit to the USA.

As the news of his untimely death spread, friends and fans collected at his residence in the morning but many of his well wishers could not catch a glimpse of him as the family had decided to shift his body immediately to his native village Bindrakh for cremation.

Immensely popular in the rural belt of Punjab, Bindrakhia's voice

was considered to be one of the most powerful voices among traditional singers in Punjab. He had cut 32 solo audio cassettes during his decade-long career. He had hit big time with his song 'Dupatta tera sat rang da' a track that reached in the BBC top 10 songs of 1994. His unprecedented success was followed by the success of his 'Toon nahin boldi toon nahi boldi'. His latest number 'Jogiya' too was doing well. Stated to be one of the most popular singers in Punjab, Surjit Bindrakhiya was considered to be the vital link between traditional Punjabi folk music and modern Punjabi pop.

Meanwhile, the Punjab Chief Minister, Capt Amarinder Singh, today expressed grief over the untimely death of famous Punjabi singer Surjit Bindrakhiya, who died of cardiac arrest today.

BINDRAKH (ROPAR): The high-pitched melodious voice of Punjab fell silent forever with the cremation of Surjeet Bindrakhia here today. Bindrakhia was cremated at his native village amidst a small gathering of his family members, friends and villagers. Son Gitaj lit the pyre of his father at 1.45 pm.

Shamsher Sandhu, a close friend and writer of the most of the famous songs sung by Bindrakhia was too shocked to give his reaction.

He revealed that synchronising with his death, Bindrakhia recorded his last song "Main tirkae ghare da pani kal tak nahin rehna" (I am like water in a seeping pot that will not survive till tomorrow).

Dr Gurmejar Singh, his nephew, said the singer was absolutely normal in the morning at his residence at SAS Nagar. It was his wife who noticed that he was not responding to repeated calls. According to his family doctor, who declared him dead, sudden heart attack seemed to be the likely cause of the death.

His father, Sucha Singh, was a famous wrestler of the village. Under his influence, Bindrakhia took to wrestling and kabbadi. He also won intercollege bouts at the university level.

Singers and artistes including Gurdas Mann, Babbu Mann, film producer Iqbal Dhillon, Sardool Sikandar, Gurpreet Guggi, Sukhi Brar, Surinder Bagga and Karnail Sibia also reached the village to console the bereaved family.

He is survived by his wife Preet Kamal, two children Gitaj and Minaj and mother Gurcharan Kaur.