M A I N N E W S
Tohra re-elected
Varinder Walia
Tribune News Service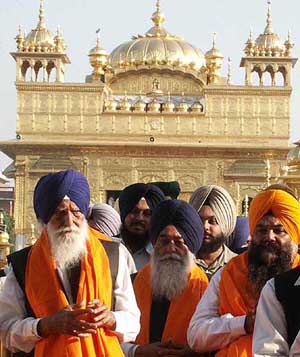 SGPC chief Gurcharan Singh Tohra (L) comes out of the Golden Temple after paying his obeisance, soon after being re-elected as SGPC president, in Amritsar on Thursday. — PTI photo
Amritsar, November 20
As Akali stalwart, Gurcharan Singh Tohra was re-elected SGPC chief for the 27th term which is unprecedented in the 78-year-old history of the SGPC — considered 'Mini Parliament' of Sikhs. He could not ensure the election of his confidant Sukhdev Singh Bhaur as senior vice-president.
Mr Alwinderpal Singh Pakhoke, Mr Kewal Singh Badal were elected senior vice-president and junior vice-president, respectively.
Much of his dismay, Mr Bhaur was elected general secretary who left Teja Singh Samundari Hall — venue of the general house meeting immediately after the election was over. Mr Bhaur's nomination as senior vice-president was opposed by Badal loyalists, including former SGPC chiefs Bibi Jagir Kaur and Mr Kirpal Singh Badungar and Mr Ranjit Singh Brahmpura, a former Akali Minister who had formed a "common front" against him (Mr Bhaur). Mr Bhaur was been elected in place of Mr Hardalbir Singh Shah who has been shown the door.
The election process was completed with voice vote as Mr Parkash Singh Badal, president, Shiromani Akali Dal held closed-door meetings with different groups with in the SGPC and the SAD. Mr Mahesh Inder Singh Grewal, Mr Balwinder Singh Bhunder, Mr Kirpal Singh Badungar and Mr Manjit Singh Calcutta acted as catalysts to persuade the members to ensure smooth election. It is learnt that Mr Grewal, Mr Calcutta, Mr Badungar and Mr Bhunder were assigned the task to 'pacify' certain
Senior leaders who had been opposing the induction of Mr Bhaur in the list of office-bearers of the SGPC.
At one time, Mr Tohra himself offered Mr Badal to nominate Mr Badungar as senior vice-president who could later took over as working president. However, Mr Badal did not accept this formula.
The executive committee members who were elected with voice vote included Mr Gurbax Singh Purain, Mr Joginder Singh Panjrath Mr Baldev Singh MA, Mr Suba Singh Dabwali, Mr Shingara Singh Lohian, Mr Raghbir, Bibi Kuldip Kaur, Mr Bhupinder Singh Asandh, Mr Gurwinder Singh Shampur, Mr Raghbir Singh Rode and Sant Atma Singh, the name of Bibi Amarjit Kaur Sekhwan had to be deleted to accommodate Sant Atma Singh. Though the former SGPC chief raised an objection over the deleting the representation of women, it fell on deaf ears.
In the general house meeting, Bibi Jagir Kaur who openly opposed the election of Mr Bhaur again raised a point in the general house that the SGPC members won't accept a person of the choice of Mr Tohra to become working president, "SGPC will have to follow the hierarchy" she said. There is a provision in the Gurdwara Act that president could appoint any member of the executive committee as working president.