NEWS ANALYSIS
Huge backlog of issues await Tohra's attention
Chandigarh, November 20
Today's SGPC Presidential election was in sharp contrast to that of November 2002. At that time, the election was held under the shadow of the police. There was tension in the air. Mr Parkash Singh Badal had sheltered the members loyal to him in his Balasar farm in Haryana, while Mr Tohra had enjoyed direct or indirect Congress support.
Sikhs 'discriminated' against in HP, Rajasthan
Jalandhar, November 20
The Shiromani Akali Dal (Amritsar) has demanded the revocation of "discriminatory" and "anti-Punjabi" and "anti-Sikh" rules and laws in congress ruled states of Rajasthan and Himachal Pradesh.
Panel on surplus irrigation staff
Chandigarh, November 20
Alarm bells have started ringing for thousands of employees who have no work to do in the Punjab Irrigation Department. The State Government has set up a three-member committee of Chief Engineers of the department to decide what should be done in case of such employees, who have been taking salary without performing any duty.
Punjab to pass orders on ineligible cops
Chandigarh, November 20
Claiming to have initiated the process of reverting ineligible police officials, the state of Punjab today asserted that substantial orders would be passed in the matter after receiving the reply of officials to show-cause notices issued to them.
Fast-track courts to hear NRI cases
Kapurthala, November 20
Mr Balbir Singh a Congress member of the Lok Sabha from Jalandhar has said that fast track courts would be set up in the state for settling the disputes of Non Resident Indians.


Emergency ward door shut on patients
Phagwara, November 20
Mr Vikas Kumar of Professors' Colony here has complained to the DC Kapurthala and Civil Surgeon that he had to take his ailing brother Raj Kumar back because the door of the Emergency Ward of Civil Hospital here was not opened though he knocked at it for long. The staff on emergency duty was apparently asleep.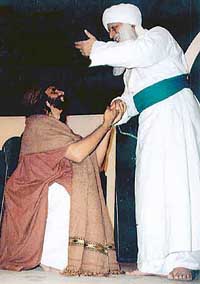 A still from the play 'Bullah' staged at Central Library Hall at Patiala on Wednesday.
'Bullah' faces another 'fatwa'

Organisers censor out Banda Bahadur's role in the play
Patiala, November 20
When Pakistani director Madeeha Gauhar stated in the preface to her play 'Bullah' that Baba Bulleh Shah lived in times of religious and ideological intolerance not much different from present day conditions in South Asia, her words had a ring of truth.
Kharar all set for 7-cr sewer system
Kharar, November 20
The town will at last have a much-needed sewer system with preparations afoot for the implementation of the Rs 7 crore project by the municipal committee. The water supply system of the town is also being augmented at a cost of Rs 3.5 crore.
Play staged on female foeticide
Fatehgarh Sahib, November 20
The students of Gobindgarh Public School during their annual function today held a Punjabi play "Kangiari" which attacked the social evil of female foeticide. The play was highly appreciated by the audience. The Deputy Commissioner said the play would be staged in the entire district to create awareness about the crime.
Regulate labour influx, says Dal Khalsa
Jalandhar, November 20
The Dal Khalsa yesterday demanded laws for regulating the entry of migrant labourers in Punjab and reservation of jobs for Punjabis in the agricultural and other private as well as public sectors.
Seven injured in group clash
Patiala, November 20
Seven persons, including a woman, were injured following a group clash over a piece of land at Seomajra village, around 30 km from here today. The injured were admitted to Government Rajindra Hospital here.
Sena for ban on Pak pilgrims
Amritsar, November 20
The All-India Hindu Shiv Sena demanded a ban on Muslims' visits to India in view of the ban on Hindu pilgrims visiting Pakistan.
Milk import to hit Punjab dairy farmers
Bathinda, November 20
The Punjab government has urged the Centre to impose duty on the import of milk products to save Punjab dairy farmers. After getting reports that import of milk products have been causing a setback to the economy of Punjab dairy farmers.


Bill to amend cooperative Act in winter session
Ludhiana, November 20
The Punjab government has decided to provide more powers and autonomy to the cooperative institutions by amending the 'Punjab Self supporting Cooperatives Societies Act.
Licence of diagnostic centre suspended
Kharar, November 20
The Senior Medical Officer, in charge of the local Civil Hospital, suspended the licence of a diagnostic centre here today for functioning in violation of the guidelines laid under the PNDT Act.


Akali leader booked for bribery bid
Amritsar, November 20
Mr Tarsem Singh Sialka, a Shiromani Akali Dal leader, was booked by the Majitha police allegedly for trying to bribe Jagdev Singh, an Assistant Sub Inspector of Tahli Sahib Chowki under the Majitha police district last evening.
Rs 4.38 lakh looted from bank
Moga, November 20
In a broad daylight robbery, three unidentified scooter-borne youths looted Rs 4.38 lakh at gunpoint from Central Cooperative Bank at Saidoke village under the Nihalsingh Wala police station yesterday.
Former sarpanch commits suicide
Ropar, November 20
Former sarpanch of Surtapur village, about 15 km from here, Ram Singh, reportedly committed suicide by hanging himself.


PTU to 'e-monitor' distance education centres
Jalandhar, November 20
To revamp its distance education programme, Punjab Technical University has initiated "E-monitoring" of its all 400 distance education centres across the country.
Essay writing contest results
Nawanshahr, November 20
The Punjab State Council for Science and Technology organised a district-level "National children science congress-2003" at Government Senior Secondary School, here yesterday. Essay writing and declamation contests were organised.
Raid on varsity don's house decried
Amritsar, November 20
The executive committee of the Guru Nanak Dev University Teachers Association, taking serious note of the police raid on the house of Dr M.D. Singh, head of Department of Laws, in connection with the suicide by a student of department, demanded that the university should take up the matter with the authorities concerned.