Martyrdom day observed
Amritsar, November 24
The martyrdom day of Guru Teg Bahadur was observed by the Chief Khalsa Diwan and Guru Harkrishan Public School here today.— OC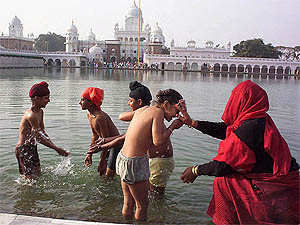 Devotees take a dip in the sarovar at Gurudwara Dukhnwaran in Patiala on the martyrdom day of Guru Teg Bahadur.
Indian culture infatuates US don
Patiala, November 24
His favourite Indian food includes "dal" and "aloo-gobhi" and he loves listening to Hindustani classical music, both vocal and instrumental, besides having a huge collection of "sufiyana kalaams" rendered by various artistes, including the late Nusrat Fateh Ali Khan and Abida Parveen.
Padamjit, a living legend of PSEB
Chandigarh, November 24
Among nearly one lakh employees of the Punjab State Electricity Board, he has become a living legend in his own right. All love him and praise his extraordinary simplicity, honesty and competence.


Kuldip Singh, Neki for scrapping of gurdwara Act
Amritsar, November 24

Even as the general house of the SGPC has passed a unanimous resolution for the enactment of the All-India Gurdwara Act, Justice Kuldip Singh, former chief of the World Sikh Council and Chairman of the Delimitation Commission, Government of India, along with Sikh scholar J.S. Neki (former director of PGI) have sought the scrapping of the Sikh Gurdwara Act, 1925.

From left: Dr J.S.Neki, a former director PGI, Dr S.P.Singh , Vice-Chancellor, Guru Nanak Dev University, and Justice Kuldip Singh, chairman, Delimitation Commission, Government of India, at the 34th foundation day of Guru Nanak Dev University, Amritsar, on Monday. — Photo by Rajiv Sharma

Screen SGPC members, says Bhaur
Amritsar, November 24
The newly elected general secretary of the Shiromani Gurdwara Parbandhak Committee, Mr Sukhdev Singh Bhaur, today urged the Jathedar, Akal Takht, to screen all SGPC members and their families for trace of apostacy (patit). In case any member or anyone in their family was found guilty of apostacy, the Jathedar should take corrective measures, he added.
Govt recognises Nanakshahi calendar, says Badungar
Patiala, November 24
Senior Shiromani Akali Dal leader and former SGPC President Kirpal Singh Badungar today claimed that the Punjab government had virtually recognised the Nanakshahi calendar by advancing the official holiday to mark the martyrdom day of Guru Teg Bahadur to November 24 from November 28.
District Diary
Pak qawwals enthral
PATIALA: Javed Bashir Khan, renowned Pakistani qawwal, along with his troupe visited the city to give message of peace and harmony all the way from Pakistan here recently.
Cold claims life in Punjab
Chandigarh, November 24
An elderly person succumbed to the icy winds that swept across Hariana town of Hoshiarpur district in Punjab, while Amritsar turned out to be the coldest place in the plains of the north-west region during the past 24 hours.
9 buffaloes perish in fire
Barnala, November 24
Nine buffaloes and a bull were charred to death in a fire which broke out on Saturday night in Majhooke village, near here according to a delayed report received here.


HIGH COURTS
Anticipatory bail for Badal's nephew
Chandigarh, November 24
Acting on a petition filed by Punjab's former Chief Minister Parkash Singh Badal's nephew Manpreet Badal for the grant of pre-arrest bail in an alleged corruption and cheating case, the Punjab and Haryana High Court today granted him interim anticipatory bail.
Report on safety steps sought

Rape by cops: notice issued
Improvement Trust denied right to charge more for corner flats
Ropar, November 24
The district consumer forum of Ropar has denied the Improvement Trust, Ropar, the right to charge extra price for the corner flats. In a complaint before forum, Vijay Kumar Sahdev, a resident of Ropar, had alleged that the Improvement, Trust Ropar, had demanded application for demand survey of duplex flats in 1992.
Fast-track courts soon at Patiala, Jalandhar
Chandigarh, November 24
The Chief Justice of the Punjab and Haryana High Court, Mr Justice B.K. Roy, has accorded approval for setting up of two fast-track courts for the trial of corruption cases registered by the Vigilance Bureau. The decision, according to Punjab Government, is significant as "it will further strengthen the anti-corruption drive launched by it".
Entry to judicial complex restricted
Ropar, November 24
Keeping in view the sensitive nature of the cases under trail in the Special Court here the District and Sessions Judge has banned the entry of unauthorised persons in the Ropar judicial complex.


Govt clears Nangal picnic spot
Nangal (Ropar), November 24
The Local Self Government Department has cleared a picnic spot project at Nangal. The sources said that the Secretary, Local Government, had cleared the formation of a committee under Deputy Commissioner, Ropar Ms Seema Jain to oversee construction of the picnic spot on the banks of Sutlej in Dobeta colony of Nangal.
IMA, admn impasse ends
Bathinda, November 24
The impasse between district administration and the Indian Medical Association, district unit following the registration of criminal complaints against a section of doctors by the local PNDT Cell for their alleged involvement in the facilitation of female foeticide today came to an end.
Assurance to sacked panchayat secys
Chandigarh, November 24
The Punjab Government today assured the 909 panchayat secretaries who were terminated from service last year that they would be reinstated soon. But the reinstatement will be subject to the decision of the Punjab and Haryana High Court where a case regarding their removal from service is pending.


Three killed in road mishaps
Abohar, November 24
Three persons, including a woman, were killed in two separate road accidents on Sunday evening. According to reports Jasvir Singh, a resident of Maur Mandi, and his brother-in-law were killed when the jeep in which they were travelling collided with a bus while they were returning to Burjmuhar.
Cop held for forcing entry into bank
Amritsar, November 24
Police constable Jaspal Singh of Gurdaspur was allegedly caught by chowkidar and three labourers of Punjab and Sind Bank while he was sifting through files of the bank at 5.30 P.M. today.
8 arrested for fleecing tourists
Amritsar, November 24
The Gharinda police has apprehended eight members of a gang involved in fleecing travellers, coming from all over the country to see the Retreat ceremony at Wagh border, 30 km from here, today.
Gang of robbers busted, four arrested
Jalandhar, November 24
The district police today busted a four-member gang of robbers involved in looting of train passengers by using eatables mixed with intoxicants. The district police chief, Mr G.S. Bhullar, stated that the four were arrested from godown of the Punjab Warehousing Corporation at Basti Bawa Khel when they were planning a dacoity.
Father booked for rape
Barnala, November 24
A case of rape has been registered on the complaint of a 16-year-old girl against her father, a resident of Tapa.
20 bags of poppy husk seized
Bathinda, November 24
The police today unearthed an inter-state gang of smugglers of poppy husk. Twenty bags of poppy husk, which were being smuggled from Rajasthan, were seized from the gang members.


Guru Nanak never criticised Islam, says scholar
Amritsar, November 24
Oneness of God, and protection of environment according to Guru Nanak's bani was theme of the scholars who spoke at the academic session of the 34th foundation day celebration of Guru Nanak Dev University held here today. Justice Kuldip Singh, a former Supreme Court judge presided over the celebrations.
GGSS school to be made model, says Dy Speaker
Fatehgarh Sahib, November 24
Mr Bir Devinder Singh, Deputy Speaker, today presided over the annual prize distribution function of Government Girls Senior Secondary School, Sirhind. The function was arranged by the staff in collaboration with Parent Teacher Association.
VC inaugurates youth festival
Fatehgarh Sahib, November 24
It was unfortunate that the government had not been able to look after the financial health of universities. Even in advanced and developed countries 60 to 65 per cent of the budget of the universities came from the government, where as in our country the ratio was only 42 per cent, which affect the working of the universities, said Padma Shri Dr Swarn Singh Boparai, Vice Chancellor, Punjabi University Patiala, while talking to The Tribune here today.
Inter-college contests organised
Amritsar, November 24
Inter-college competitions were held in folk art, photography and painting to mark the 34th foundation day of Guru Nanak Dev University here today. Shaheed Darshan Singh Pheruman College, Rayya, bagged the top position in folk art while the local BBK DAV College was the runner-up, and HMV College, Jalandhar, and the DAV College for Education stood third.


Business premises of 10 colonisers surveyed
Bathinda, November 24
The Income Tax Department officials surveyed official premises of 10 real estate developers and agents of this and its surrounding towns today seized documents relating real estate transactions running in crores.
Bankers seek action against defaulters
Patiala, November 24
The All-India Bank Employees Association today demanded that the government should take action to expeditiously recover the increasing non-performing assets.