N A T I O N
Cong leadership was wary of singling out Badal
New Delhi, November 26
Even though Punjab Chief Minister Amarinder Singh had got the nod from the party high command to file the chargesheet against SAD chief Parkash Singh Badal, any effort to seek the latter's arrest or custodial questioning was strongly disfavoured.
Vehicles burnt, factory damaged in mob violence
Gurgaon, November 26
A mob of 1000 persons which had gathered for "Namaz" on the occasion of Id turned violent and damaged a garment unit and burnt more than 20 vehicles in Udyog Vihar here this morning.
Stop sending vehicles to Assam through Bihar, say truckers
Patna, November 26
Bihar transporters, who have stopped sending trucks to Assam in view of the ethnic violence, today threatened to stall movement of vehicles from other states to Assam and other north-eastern states through the state.
CBI to probe violence in Assam
Guwahati, November 26
Under attack for its alleged improper handling of anti-Bihari violence which left 56 persons dead, the Assam Government has decided to seek a CBI probe into the incidents.
Judges must be men of integrity, says CJI
New Delhi, November 26
Chief Justice of India V.N. Khare today called upon judges to uphold the judicial integrity at all costs as they were not merely dispensing with cases but were the custodian of public trust in the justice delivery system.
Railway ex-minister supports Nitish
Kolkata, November 26
A former Railway Minister, Mr A.B.A. Ghani Khan Chowdhury, favours providing jobs to local youths in groups C and D in Railways recruitments. It will help redress local grievances to a large extent, he observed.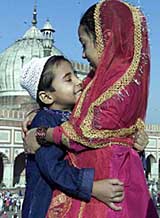 Children greet each other on the eve of Id festival at Jama Masjid in New Delhi on Wednesday. — PTI

All Pong Dam oustees not issued ECs, admits HP
November 26, 2003
Iran offers 60 pc cost of pipeline
November 25, 2003
Contractor, labour not staff of employer, says SC
November 24, 2003
CVC denies naming ministers; PM seeks Cong apology
November 23, 2003
Sack Jaitley, 5 other ministers,
says Cong
November 22, 2003
SC gives land rights of ex-ruler to HP
November 21, 2003
Kalam presents Indira peace prize to Ramphal
November 20, 2003
Corruption becomes election issue
November 19, 2003
Going gets tough for SAD
November 18, 2003
Madhumani's arrest imminent
November 17, 2003
Telgi's parole plea order reserved
November 16, 2003