GARDEN LIFE

Plant evergreens at the entrance
Satish Narula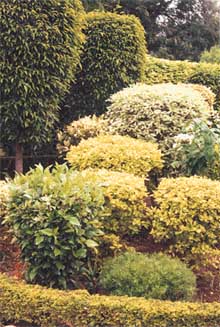 Avoid plants that shed leaves frequently
It is said that the first impression is the last impression. The entry to a house is the first place that a visitor sees. It speaks about the house and reflects the taste and personality of its occupants.
Decorating this place is, however, tricky as many factors have to be kept in mind.
The selection of the plants has to be judicious. I have seen, at times, that the plants selected for the entrance shed leaves quite often and aplenty.
It becomes a perennial source of problem for the gardener. It is best to avoid trees that are deciduous in nature and shed leaves at a specific time of the year.
Select only those trees that are evergreen, bear good flowers and are preferably fragrant.
Also take care that the trees do not unnecessarily shade the entry too much. At the time of planting, visualise the effect of the plant 10 years hence. Do not go in for trees that spread too much and keep the crown high by pruning basal branches.
In case of palms, however, such problems are not encountered.
EARLIER COLUMNS
Amla, jamun plants regain popularity
November 16, 2003

Cycads a favourite of landscapists
October 19, 2003

Save the citrus crop from fruit drop
October 5, 2003

Variegated foliage a wonder of nature
September 21, 2003

Cultivate crotons for colour
September 7, 2003

Experiment with the ananas
August 24, 2003

Chikoo lovers swing into action
August 10, 2003

Pear prospects
July 27, 2003

A 'cut and tried' way to propagate
July 13, 2003

While selecting trees for the entrance, you can include bottle brush, weeping willow etc, as such trees have drooping branches that give the look of a welcome posture.
Bottle brush bears beautiful scarlet flowers at the terminal of the branches. For huge houses, one can go in for royal or bottle palms that give a regal look. These can be planted close to each other.
One should, however, be very particular about their alignment. These should stand in a queue. Whichever tree you plan to plant, make sure there is no line overhead. Ashokan (pendulous) is another good choice. But do not let these grow more than 10 to 12 foot high and keep heading them back repeatedly.
The driveway can be decorated by making different patterns with some of the ground cover plants. The designing depends upon your own imagination. You can also plant standard roses (the ones that are budded three foot above). You can do wonders with such plants that stand pruning well. See the accompanying picture. There is no need to be formal in that.
Only take care that the topiary has the small plants in front. Such displays also provide with the much-needed screening effect to keep the Peeping Toms away. The plants that you can use for such planting include clerodendron (the common hedge plant), duranta (various kinds, all green, golden, variegated), snowbush, chandni (variegated), various Ficus species and so on. Such combinations also provide colour to the arrangement. These can be interspersed with the shrubs with coloured foliage.
Some gardners even plant the mussaenda at the entry point. It bears coloured brackets for almost eight months. But it sheds leaves in winter and should not be located at a place that it makes the view open when dormant.