Local artist exhibits classic reproductions
Asha Ahuja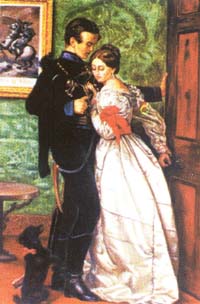 Paintings by Manmohan Singh at an exhibition of his works in Ludhiana on Sunday. — A Tribune photograph
Ludhiana, November 30
The solo and maiden exhibition of Manmohan Singh's paintings is on at the newly opened TAC Art Gallery, Rajguru Nagar. Ms Poonam Bindra, Secretary, Child Welfare Council, inaugurated the exhibition here last evening. She was all praise for the artist.
Manmohan Singh is a local artist and has a special aptitude for realistic reproduction of old masters. He has learnt art from Sardar Malkiat Singh for a few months in Nanaksar Gurdwara, Jagraon, in 1984. Some of his famous reproductions are on display at the exhibition. They include the world famous 'Mona Lisa' and Sobha Singh's 'Sohni Mahiwal'. His paintings are replicas of the originals. To make Mona Lisa look original, he has developed cracks on the canvas to give it a touch of authencity. He said that he has painted Mona Lisa for the third time as she fascinates a lot of people.
Talking to Ludhiana Tribune , Manmohan Singh said,"I have reproduced the paintings of masters as there are many art lovers who cannot buy the originals and opt for the reproductions. But in my next exhibition , I plan to showcase my original paintings. This is my solo exhibition. Earlier, I had held exhibitions along with other artists."
His painting of 'Basant Singh Khalsa' has the honour of being displayed at Ajaib Ghar at Darbar Sahib, Amritsar. Some of his paintings are displayed at a museum in Jark village of Khanna.
Apart from reproductions of famous works, he has also made portraits, landscapes and paintings depicting rustic backgrounds. Some of his famous works include portraits of the Maharaja of Patiala, Bhupinder Singh, Guru Nanak Dev, Guru Gobind Singh, Lord Shiva and Radha Krishna. He has made his paintings look more emphatic through emboss work, done with oil colours using a cone.
Radhye Sham, famous maker of gods and goddesses for calendars who had specially come from Gobindgarh, said, "Manmohan Singh has the unique ability to capture the essence of masters. His stroke work is exceptionally good."
Manmohan Singh was recently awarded with Amrita Shergil Award, Chandigarh. He says, "Art should be used to build bridges across political and religious borders. It can be used as a powerful tool for the betterment of the world."