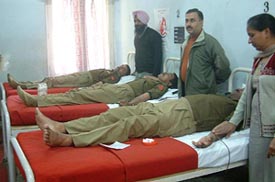 BSF jawans donated blood at a blood donation camp organised by Punjab Frontiers of BSF in Amritsar on the eve of 39th Raising Day of BSF. — Photo by Rajiv Sharma
Woman's fight for justice continues
Ludhiana, November 30
The nightmare that started with an alleged molestation bid by her own superior on a city-based Punjab Police woman constable continues to haunt her with the accused DSP allegedly eliciting the support of two SPs in pressuring the woman to withdraw her complaint and reach a compromise. Undeterred, the woman has sent letters to superiors questioning the safety of women in the uniformed force.
BSF's special operations to thwart ISI designs
Along The Zero Line (Ferozepore), November 30
Keeping in view the onset of winter and foggy conditions, the Border Security Force (BSF) has intensified patrolling and launched special operations to thwart any attempt by anti-national elements and ISI agents to sneak inside the Indian territory taking advantage of inclement weather conditions.


Matriculates to sell PRTC tickets
Patiala, November 30
The Pepsu Road Transport Corporation (PRTC) has, under a pilot project, entrusted the responsibility of selling tickets to young matriculates on a commission basis to free its own men from this task, even as it has started hiring other personnel in other categories on a contract basis.
Marriage palaces in for tough time
Patiala, November 30
The district administration has decided to get tough with marriage palaces, places of religious interest and individuals playing blaring music by deciding to prosecute those who do not abide by the relevant sections of the Noise Pollution Act.
Lawyers encroach on mini secretariat land
Ropar, November 30
While the district administration has been trying to remove encroachments from the government land in other parts of the district, the encroachments have cropped up right in the mini secretariat close to the office of the Deputy Commissioner and the judicial complex here. The encroachers are none other than an elite and an educated section of society, advocates.
FATEHGARH SAHIB DIARY
Agenda set for good governance
Fatehgarh Sahib, November 30
Fatehgarh Sahib has set an agenda of good governance by introducing administrative reforms and cutting down the long established procedures and delays by introducing single user-friendly window disposal and helpline (Suwidha) in the Deputy Commissioner's office. It has not only brought transparency in the working but also increased the accountability as now the officials concerned are always available to the public on the window. It has changed the work culture in totality.
Medicare on doorsteps

BSNL services

Lok adalat for poor

Urban estate awaited

To pay tributes to martyrs and to show solidarity with their widows and families, orphans, disabled soldiers, as well as for the serving soldiers, who are defending our borders, a district-level rally of ex-servicemen will be organised on the eve of Armed Forces Flag Day on December 5, said Mr S.K. Ahluwalia, Deputy Commissioner-cum-President District Sainik Board, while addressing the meeting of the District Sainik Board here on Friday.
Six members of a Nangal-based family were killed when their Maruti-800 car met with an accident on the Sirsa Bridge road, at about 2 pm today. The car had a head-on collision with a truck coming from opposite direction.
Two occupants of a jeep were injured and one was killed when their vehicle rammed into a roadside tree here today. According to information the Jeep belonging to a tours and travels agency was carrying newspaper bundles from Abohar to Sriganganagar.
Two photographers were burnt alive when a fire broke out in a studio here last night. Rajiv Midha and Sunny, both aged 20, were working at Andaz Photo Studio located on the Women Hostel road here last night. There was a power breakdown after 12 midnight.



Telecom firm men held for torture, let off
Jalandhar, November 30
The district police arrested seven persons from the local office of Reliance Telecom late last night on the allegations of torturing two persons, reportedly working as, its sub-agents, by keeping them in illegal confinement. The arrested persons were released on bail.


Mansa college bags overall trophy in youth festival


Mansa, November 30
Government Nehru College here created a history of sorts when it lifted the overall trophy in the three-day zonal youth festival which concluded on its campus last night. Government Rajindra College got second position while Barjindra College, Faridkot bagged the third position.
The Regional Institute of Management and Technology held the Aagaaz 2003 function of its engineering college on the institute campus today. Students of the institution presented an impressive cultural programme. Mr Hukam Chand Bansal, Chairman of the institution presided over the function. People from all walks of life attended the function.
It was a memorable evening for parents who watched their kids perform at the annual function of their Clay India International School, Sangat town of this district. Students presented more than 20 cultural items at the function held last evening.