M A I N N E W S
Akali leaders give 'Ropar chalo' call
Crackdown on activists continues
Tribune Reporters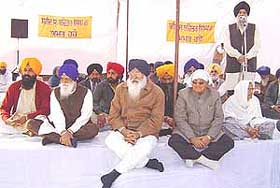 Mr Parkash Singh Badal, SAD President, along with Capt Kanwaljit Singh (standing), Mr Gurcharan Singh Tohra, Mr Madan Mohan Mittal and Mr Prem Singh Chandumajra at a function organised at Padiala village in Ropar on Sunday.


Padiala (Ropar), November 30
Shiromani Akali Dal (SAD) leaders today gave a call for "Ropar chalo" to their workers for tomorrow, when the SAD President, Mr Parkash Singh Badal and others will appear before a special court in a corruption case, even as hundreds of Akali activists were detained in various parts of the state.

The call was given by the President of the SGPC, Mr Gurcharan Singh Tohra, and other leaders at a function organised at Shaheed Bhagat Singh Memorial College for Girls at Padiala village, near Kurali. The function, organised to observe the seventh death anniversary of the late MLA Bachittar Singh, was also attended by Mr Badal, former Finance Minister Kanwaljit Singh, former Food and Civil Supplies Minister Madan Mohan Mittal and Mr Prem Singh Chandumajra.

Mr Tohra, talking to newspersons at the function, said SAD workers and leaders, including him, would reach Ropar tomorrow to express solidarity with their party president.

Capt Kanwaljit Singh, talking to newspersons, said about 50,000 SAD workers were expected to reach Ropar tomorrow. The workers would hold a silent protest march, he said. If the police stops SAD workers on way to Ropar, the latter have been directed to sit in dharna and resort to traffic blockades.

Mr Badal, when asked about the proposed show of strength of his party at Ropar tomorrow, said no party worker had been directed to come to Ropar. If the workers come to Ropar, it will be of their own will, he added.

He said it was strange that the Vigilance was deputed to serve summons on him whereas it was the job of court officials. Mr Badal said he would apply for regular bail in the special court tomorrow. If his bail petition was rejected, he would not mind going to jail, he stated.

He alleged that a coterie of officials connected with the case was being unduly rewarded. The daughter of the SSP, Ropar, Mr Surinder Pal Singh, who also holds the charge of SP, Vigilance, has been given the post of Deputy Advocate-General. The Vigilance Bureau has been politicised to such an extent that its officers are now giving political

statements against opposition parties, Mr Badal alleged.

Meanwhile, despite heavy police deployment in and around Ropar, many Akali leaders today reached the town and surrounding areas clandestinely along with their supporters. Sources said Mr Sucha Singh Langah, former PWD Minister, reached the Bhatha Sahib gurdwara here along with 250 supporters from Gurdaspur last night.

The sources said Bibi Jagir Kaur, former SGPC president, reached Anandpur Sahib today. She is staying in the Takht Sri Kesgarh Sahib complex today.

Mr Bagh Singh Mallah, former MLA from Jagraon, was among the other Akali leaders who reached Ropar along with his supporters today. The SAD leaders of the district, including Bibi Satwant Kaur Sandhu, MLA from Chamkaur Sahib, Mr Tara Singh Ladal, former Minister, Mr Gurinder Singh Gogi and Mr Jarnail Singh Aulakh were not traceable today. In a related development, the District Magistrate, Ropar, Ms Seema Jain, today extended the ban on gathering of more than five persons, raising slogans and organising rallies under Section 144 of the CrPC to the entire district. The orders released today will remain in force till December 10.

In a press note, the SSP, Ropar, Mr Surinder Pal Singh, said 19 barricades had been raised around the judicial complex in Ropar to stop SAD workers.

Twelve duty magistrates and 1,000 policemen have been deployed in and around Ropar to thwart the attempt of SAD workers to hold a protest.

JALANDHAR: The Punjab police on Sunday continued to detain SAD workers as part of its drive to stop them from reaching Ropar.

While 60 workers were rounded up in Jalandhar district, about 350 SAD activists were nabbed in Amritsar district and over 60 in Hoshiarpur district, reports received here said. The workers rounded up were presented before different courts and sent to judicial custody.

In Hoshiarpur, SAD women's wing state president Bibi Vinod Chadda and several SAD office-bearers were among those who were nabbed.

The Phillaur police rounded up 10 Akali leaders in the town and surrounding areas.

SANGRUR: At least 300 SAD leaders and activists had been detained by Sunday evening by the Sangrur district police and the Barnala police district authorities.

Mr Gurinder Singh Dhillon, SSP, Sangrur, said more than 250 SAD leaders and activists had been detained as a preventive measure, including Mr Balbir Singh Ghunas, MLA from Bhadaur (Sangrur district), Mr Gura Singh Tungwali, MLA from Nathana (Bathinda district), Mr Iqbal Singh, Chairman, Punjab Agriculture Development Bank (PADB), Bathinda, Mr Sanmukh Singh Mokha, an SGPC member, Mr Satnam Singh Shatrana, son of Mr Nirmal Singh Shatrana, MLA, and four circle Jathedars of the SAD in the district.

The Sangrur district police has rounded by 107 SAD leaders and activists in Sunam subdivision, 69 in Sangrur subdivision, 42 in Moonak subdivision, 29 in Malerkotla subdivision and five in Dhuri subdivision, a senior police officer said.

Mr Narinder Bhargav, SSP, Barnala police district said 40 SAD leaders and activists had been detained, including three SGPC members.

AMRITSAR: A major crackdown on Akali leaders and activists was reported on the eve of the appearance of Mr Badal in the Ropar special court. Mr Manjinder Singh Kang, former Chairman, Forest Corporation, was rounded up on his way to Chandigarh.

Mr Pardeep Singh Walia former district president, Mr Swarn Singh Haripura, Mr Puran Singh Mattewal, Mr Amar Singh Gill, Mr Baldev Singh Rattan, Akali Dal councillor Sukhwinder Mahal, Mr Onkar Singh Shariefpura, SGPC member, and Mr Jaswinder Singh, an advocate, were among those rounded up.

A total of 149 Akali activists were taken into preventive custody for a week in the Majitha police district. These included Mr Baldev Singh Gandhi, vice-president, SAD (Rural), Mr Raghbir Singh, vice-president (circle), and Mr Gagandeep Judge, Youth Akali Dal president.

PHAGWARA: In post-midnight and pre-dawn swoops, 54 Akali workers were detained as a preventive measure during raids conducted in Phagwara and several villages by police parties.

Local DSP Sajjan Singh Cheema confirmed these detentions on Sunday.

Those detained include Mr Surinder Singh Khalsa of Derveshpind, Mr Darshan Singh of Madhopur, Mr Kulwinder Singh of Pandori village, Mr Rajwant Singh Jhikka and Bhagat Singh Bhungrani of Phagwara.

Senior Akali leaders Jagat Singh Palani, Jatinderpal Singh Palahi, Jathedar Gurmukh Singh and Mr Gurjit Singh Khalsa dodged the police during the raids.

KAPURTHALA: In pre-dawn swoops, the district police detained 92 Akali and BJP workers from Kapurthala, Sultanpur Lodhi and Bholath subdivisions of the district. Mr S.K. Asthana, Senior Superintending of Police, said these workers had been detained as a preventive measure.

According to Akali sources Mr Raghbir Singh, former Transport Minister, and president of the district Akali jatha, and Dr Upinderjit Kaur, former Akali minister and sitting MLA from Sultanpur Lodhi had left Kapurthala along with their supporters to Anandpur Sahib and Ropar to court arrest with Mr Badal.

The breakdown of the workers detained in the district is: Kapurthala — 26, Bholath — 42 and Sultanpur Lodhi — 24, the SSP said.

PATHANKOT: Senior SAD leader Jathedar Sewa Singh was nabbed on Saturday night by the police from his residence in Indira colony.