In Agriculture Tribune today
THE TRIBUNE MAGAZINES
On alternate Mondays

On Sundays
On Saturdays
Akali leaders give 'Ropar chalo' call
Crackdown on activists continues
Padiala (Ropar), November 30
Shiromani Akali Dal (SAD) leaders today gave a call for "Ropar chalo" to their workers for tomorrow, when the SAD President, Mr Parkash Singh Badal and others will appear before a special court in a corruption case, even as hundreds of Akali activists were detained in various parts of the state.

Is Punjab CLP heading for change?
Chandigarh, November 30
Dissidence within the Punjab Congress Legislature Party (CLP) has started concretising with the emergence of Beant Singh group claiming as many as 42 of sitting party legislators, including several ministers, as its members.

Major killed in encounter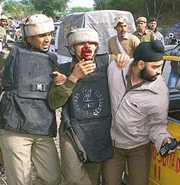 Policeman dies in gunbattle
Jammu, November 30
A policeman was killed and eight Army jawans and security personnel were wounded in a gunbattle here with terrorists who injured a top IAS officer, Mr K.B. Pillai, while he was returning home from a private hospital early this morning.

Policemen help their injured colleague during a gunbattle in Sidhra, 9 km from Jammu, on Sunday. — Reuters photo

Mishra tipped to become new CBI chief
New Delhi, November 30
Mr U.S. Mishra, Special Director in the CBI, is tipped to become the agency's Director after the retirement of present incumbent P.C. Sharma on December 6.


Stormy winter session of Parliament likely
New Delhi, November 30
The truncated winter session of Parliament, which commences on Tuesday, is expected to be stormy with the Congress-led Opposition flexing its muscles to pin the government on a host of issues, including that of former Union Minister Dilip Singh Judeo caught on tape accepting bribe in a hotel in the Capital.
HOROSCOPE


Special coverage of Assembly elections in Delhi, Rajasthan, Madhya Pradesh, Chhattisgarh and Mizoram

India differs with EU on Pak policy
November 30, 2003


HC stays tribunal order on transfers
November 29, 2003


SC upholds Punjab's decision on
liquor fee
November 28, 2003


Guns remain silent
November 27, 2003


Ceasefire begins
November 26, 2003


India goes a step ahead, offers truce in Siachen
November 25, 2003

Challan sees rowdyism on roads
November 24, 2003

Chargesheet filed against Badal, five others
November 23, 2003

SC stays trial in Godhra, nine other cases
November 22, 2003

27 dead, 450 hurt in Istanbul blasts
November 21, 2003

Militants holed up inside BSNL office
November 20, 2003