Military might through satellite
D. S. Cheema
Blaring conches, clash of cymbals, pounding hooves, whirring chariot wheels: the battle is joined – fierce contests – no quarter given, no quarter taken. This was the story of warfare years ago. The story is, in essence, a narrative of survival, a saga of human ingenuity. It is the story of man.
Nigeria takes on 419 scam
Nigerian President Olusegun Obasanjo said he would step up measures against his country's notorious junk mail conmen who swindle people around the world of hundreds of millions of dollars annually. The so-called 419 scam, named after an article in Nigeria's penal code outlawing it, has been so successful in the past 20 years that campaigners say it is now the third to fifth largest foreign exchange earner in Africa's most populous nation.
Web bridges gulf in Kerala
With hubbies abroad, wives learn Net to e-mail hello
Sreedevi Jacob
Twenty-year-old Sameera, a resident of Malappuram district, coastal Kerala, was in awe of a computer over a long period. "It was something I looked at with reverence and fear because I didn't know how it worked. But now I explain to my five-year-old son how it functions," she says. Sameera is not alone. Seven hundred thousand people out of a population of 3.6 million are expected to become computer-literate in Malappuram, by the time this is published.
IT WIT
by Sandeep Joshi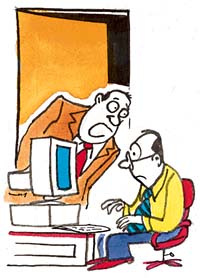 Today is World AIDS Day. Browse carefully or your computer might get infected with HIV.


Hi-tech industry continues to lose jobs
Meenakshi Ganjoo
Although the US economy is picking up, the hi-tech industry continues to lose jobs, albeit at a much slower pace than recent years, according to a study released today by an electronic trade industry group.

Sign in digitally
Jaspreet Bedi
Authentication has a prominent place to resolve the disputes since times immemorial. For a common man, authentication of document means signatures and attestation. During current times, when the e-fever is on and the use of e-laws, e-mails, e-governance , e-business, e-learning is at its peak, electronic documents in the form of letters, forms, cards, messages, appointments and promises are popular.

Protect your password
Sanjeev Bhatti
The Internet has brought faster access to information related to both: business and personal. But we can't also ignore the fact that malicious codes are also delivered through the Internet by hackers and crackers. In order to save and secure information we need to implement some security policies. One biggest security breach is password that we use for accessing resources (printers, modems, files) from the network.
Harry Potter and the issue of copyright
The magic powers of boy wizard Harry Potter were apparently not enough to prevent him from being pirated by the Internet in China, reports Xinhua. The issue has sparked a national debate on 'freedom' and 'copyright' in cyberspace. The phenomenally popular Harry Potter series published its fifth instalment, The Order of the Phoenix, on June 21. The Beijing-based People's Literature Publishing House began its translation as soon as it got the book's copyright.
Please give thumb impression and check in
Jon Boyle
The executive skips past the snaking airport check-in queue, waves a credit-card size pass at a monitor, puts a finger into a hi-tech reader and proceeds to the boarding zone thinking: "Some day, we'll all fly like this." Science fiction? Not at all. Biometrics, the technology that uses fingerprints, the voice, face or eyes to identify an individual, is set to revolutionise the way we travel and live.