Monday, December 1, 2003
Feature
Hi-tech industry continues to lose jobs
Meenakshi Ganjoo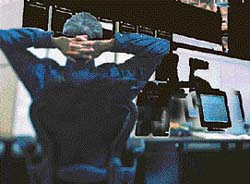 Although the US economy is picking up, the hi-tech industry continues to lose jobs, albeit at a much slower pace than recent years, according to a study released today by an electronic trade industry group.
Hi-tech employment, which fell by eight per cent in 2003, is expected to decline by another four per cent in 2003, according to AeA, a trade group formerly known as the American Electronics Association.
"We project that the 2003 high-tech job losses will total 2,34,000 down 57 per cent from the 5,40,000 decline in 2002," AeA President and CEO William T. Archey said.
The report titled, Cyberstates 2003: A State-by-State Overview of the High-Technology Industry, found that all but three states lost hi-tech jobs in 2002.
California lost the greatest number of tech jobs, shedding some 1,23,000 jobs. Texas was second with tech jobs down by 61,000 jobs.
Interestingly, the District of Columbia, Wyoming, and Montana were the only three cyberstates to add technology jobs between 2001 and 2002.
Overall, the hi-tech industry is expected to have 5.76 million jobs by the end of this year, dropping from 6.5 million in 2001, said the annual report.
The biggest 2001-2002 manufacturing job losses were recorded in electronic components, which lost 76,000, followed by communications equipment, with 47,000 jobs lost, and semiconductors, with 41,000 fewer jobs.
The communications services and software sectors each shed 146,000 jobs from their payrolls. Engineering and tech services dropped by 15,000 jobs R&D and testing labs added 7,000 jobs in 2002.
For the first time in the seven years of publishing Cyberstates, the software sector recorded a loss of nearly 150,000 jobs last year. Indeed, the once-thriving software sector posted large increases in employment in all previous editions of Cyberstates.