PUNJAB
HARYANA
JAMMU & KASHMIR
HIMACHAL
REGIONAL BRIEFS
NATION
OPINIONS
MAILBAG
BUSINESS
SPORTS
WORLD
B U S I N E S S
Exports up but growth rate down
New Delhi, December 2
India's exports failed to carry on the earlier momentum with its growth rate falling to 5.07 per cent during October, 2003, a sharp fall in the growth rate of 25.05 per cent registered in October, 2002, as compared to the same month of 2001.
India wins case against EC at WTO
New Delhi, December 2
A WTO dispute settlement body has ruled in India's favour against the European Commission (EC) in a case of preferential treatment to certain countries.
Sellers make hay as gold shines
Chandigarh, December 2
With the quantum jump in the gold prices over the past one week, the market has switched on the panic button. As the gold market has crossed Rs 6,000 per 10-gram mark last week, crossing Rs 6,050 today, investors in the region have started making quick money by selling gold, but some are still buying gold assuming prices will further rise.
A Chinese couple looks at gold jewellery displayed in a shop in Shanghai on Tuesday. Spot gold held just above $400 an ounce in Asia on Tuesday, moving in a tight $1 range after the metal passed the milestone in New York trade.
— Reuters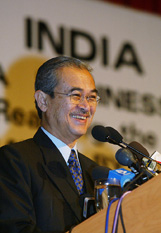 Malaysian Prime Minister Abdullah Ahmad Badawi launches the Malaysia-India "Incredible India 2003" Business Forum in Kuala Lumpur on Tuesday. Malaysia and India are in talks over Kuala Lumpur's award of a $3.8 billion rail deal to local firms instead of Indian and Chinese bidders originally earmarked for the work, ministers from both sides said on Tuesday.
— Reuters