In Career Guide today
THE TRIBUNE MAGAZINES
On alternate Mondays

On Sundays
On Saturdays
PM says no to JPC probe in Judeo case


New Delhi, December 11
Prime Minister Atal Bihari Vajpayee today took the Opposition to task for what he called 'unfair criticism' of the Central Bureau of Investigation in the Judeo case and said there was no need for a Joint Parliamentary Committee to probe into this issue as any JPC would have to rely on the CBI only for any inquiry.


Walkout over Prasad's remarks
Cabinet okays new Bill on defection
New Delhi, December 11
Moving towards further electoral reforms the government has decided to bring in a Constitutional amendment to disallow defectors from holding office of profit till they win the next elections.

In video (28k, 56k)



Chandigarh page: US salutes son of India
Chandigarh, December 11
In perhaps the first ceremony of its kind in the country, a top US Army officer led fellow officers and men to pay tributes to Indian-born US Army trooper, Sgt Uday Singh, at his parental home in Sector 18 here today.

Uday Singh cremated with US honours
Development to be BJP's plank for LS poll
New Delhi, December 11
BJP General Secretary Mukhtar Abbas Naqvi today said development would be the main poll plank of the party in the Lok Sabha elections next year even as it would not hesitate to counter the Opposition on Hindutva issues like Ayodhya.


Bihar girl is UNICEF role model
New Delhi, December 11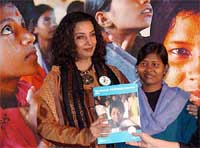 Her parents wanted to marry her off when she was 10 years old. She was not permitted to go to school as she was expected to do the household chores at home.

Bollywood actress Shabana Azmi with tribal girl Lalita after releasing the UNICEF report "Girls Education and Development" at a function in New Delhi on Thursday. — PTI photo

Amarinder parades 40 MLAs in Delhi
December 11, 2003

Badal, Sukhbir get bail
December 10, 2003

RS members come close to blows
December 9, 2003

5 killed in Andhra communal violence
December 8, 2003

Jogi offered money to MLAs, says BJP
December 7, 2003


SC to hear Badal's petition on Monday
December 6, 2003


BJP sweeps out Congress from 3 states
December 5, 2003


Turmoil in Parliament over PSUs, Judeo issue
December 4, 2003


31 die in bus mishap near Chamba
December 3, 2003


Badal, Sukhbir sent to Patiala jail
December 2, 2003


Pak to lift ban on Indian overflights
December 1, 2003

India differs with EU on Pak policy
November 30, 2003