50 pc of Mohali units have closed down
Mohali, December 25
Even as the Punjab Government continues to project Mohali as the future industrial destination of the state, more than half of the small-scale industries in Mohali have closed shop.
It was celebrations all the way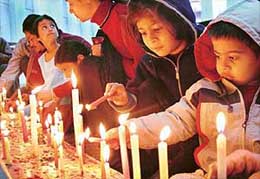 Chandigarh, December 25
All roads led to celebrations. City residents, dressed up in their festive best, today reached the churches decorated with twinkling stars, glittering bells and cheerful balloons, on the occasion of Christmas.
Children light candles at the Sector 19 church to mark Christmas in Chandigarh on Thursday.
— Tribune photo by Pankaj Sharma


Students celebrate Christmas

Christmas celebrated
Driving reverse to promote Indo-Pak ties
Chandigarh, December 25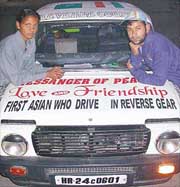 Mr Harpreet Papoo, an undergraduate from Bathinda, on a peace mission, is aiming to drive his car 'in reverse gear' from Sansad Bhawan, New Delhi, to Pakistan's Parliament in Islamabad. His objective — to promote Indo-Pak relations and convince Pakistan's President Pervez Musharraf and people on both the sides to have good relations between themselves.
Mr Harpreet Papoo, along with his wife Krishna Devi, who has embarked on his "reverse" mission to promote Indo-Pak relations. — Tribune photo by Pawan Sharma

11-yr-old chosen for President's award
Chandigarh, December 25
Christmas, this year, added another feather to the cap of 11-year-old Mehak Paul, a student of Kailash Bahl DAV Centenary Public School, Sector 7, here. She has been chosen for the President of India National Child Award for Exceptional Achievement -2002 in Roller Skating.