Mohite-Patil replaces Bhujbal
S. Iyer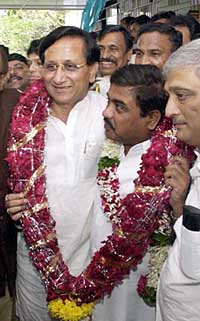 Vijaysingh Mohite Patil (left) succeeds Chagan Bhujbal as the Deputy Chief Minister of Maharashtra along with R.R. Patil who will look after the home portfolio join celebrations ending the ongoing political suspense on Thursday evening. — PTI photo
Mumbai, December 25
Nationalist Congress Party leader Sharad Pawar today announced the replacement of Mr Chhagan Bhujbal, who resigned as Deputy Chief Minister of Maharashtra earlier this week.
Maratha leader and Public Works Department Minister Vijaysinh Mohite-Patil takes over as Deputy Chief Minister even as the Home Ministry, also held by Mr Bhujbal has been handed over to senior NCP leader and Rural Development Minister R.R. Patil.
Mr Pawar said the NCP had elected Mr Mohite-Patil and Mr R.R. Patil, respectively, at the end of a two-day executive committee meeting of the NCP here today.
The meeting was ostensibly called to discuss the party's electoral alliances with like-minded parties in Maharashtra in the forthcoming Assembly elections.
Mr Pawar told reporters after the meeting that the NCP had been holding preliminary talks with Maharashtra Chief Minister Sushilkumar Shinde in the matter. He said the NCP was prepared to overlook Ms Sonia Gandhi's foreign origin in order to fight communal forces in the country.
Scotching rumours that Mr Bhujbal was unhappy after resigning from the post of Deputy Chief Minister, Mr Pawar said he had attended the NCP's national executive committee meeting and participated in the deliberations.