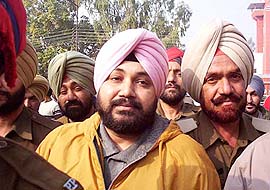 Daler's police remand extended
Patiala, December 28
Duty Magistrate P.S. Dhanoa today extended the police remand of pop star Daler Mehndi until December 30 even though the prosecution had urged for a five-day extension of the remand so that Daler could be taken to Mumbai to affect more recoveries in the human trafficking case registered against him.
Daler Mehndi being led to a court in Patiala on Sunday. — Photo by Rajesh Sachar
Mullahs misinterpreting 'jihad', say Ahmadiyyas
Amritsar, December 28
The real meaning of "jihad" was spelled out on the concluding day of the International Ahmadiyya Convention at Quadian.
Films with Punjabi themes aimed at NRIs: Harbhajan
Jalandhar, December 28
While the Punjabi film industry is still in the doldrums due to lack of government initiative to boost this sector since independence, Bollywood producers are now aiming to cash in on the Punjab factor by producing more and more films based on Punjabi heritage and culture to have better returns through their release abroad.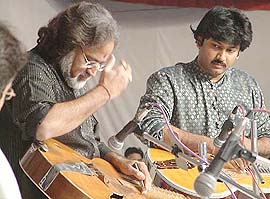 Father-son duo weaves magic
Jalandhar, December 28
Grammy Award winner Mohan Veena maestro Vishwa Mohan Bhat and his son, Salil Bhat, captivated hundreds of music lovers who converged last night in front of the 'samadhi' of Baba Harballabh, the saint who initiated this journey of classical music 128 years ago.
Pt Vishwa Mohan Bhat (left) and his son, Salil, perform at the 128th Harballabh Sangeet Sammelan in Jalandhar on Saturday night. — Photo by S.S. Chopra

BJP cells, units reconstituted
Phagwara, December 28
Punjab BJP president Avinash Rai Khanna said at a press conference here today that out of the total 32 frontal wings and cells of the state party, about 17 had been reconstituted while all 24 district units had been reconstituted to activate the organisational set-up.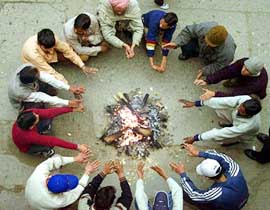 Men warm their hands over a fire in Amritsar on Sunday. A cold snap sweeping across north India has killed 24 persons, mostly the poor and homeless, in the past two days. — Reuters
BSF: more hits less misses
this year
Along the zero line (Ferozepore), December 28
With fog engulfing the entire region, the task of the BSF sleuths to man the International Border has become increasingly arduous. Keeping in view the hostile weather conditions.
Woman backtracks on charges against Mayor
Amritsar, December 28
Former Mahila Congress leader Neelam Chaudhary backtracked on her statement on Friday evening, and said that she was under pressure from certain local Congress leader backed by an MLA to name Mr Sunil Datti, Mayor in the flesh trade racked.
India should sign treaty on landmines, says NGO
Abohar, December 28
Dr Bal Krishan Kurve, coordinator, Indian Campaign to Ban Landmines, affiliated to the United Nations Organisation (UNO), has said India and Pakistan should make up their mind during the SAARC Summit to sign the international treaty to stop using landmines near borders.
Civil enclave to be ready in April
Pathankot, December 28
Pathankot shortly would be on the civil aviation map of the country. As more than 80 per cent work on civil enclave Pathankot had been completed, and by April 2004, the central government would dedicate it to the people. This was stated yesterday here, by Master Mohan Lal, former Punjab Minister.
9 couples tie the knot
Kapurthala, December 28
Baba Ashok Singh Rajdev, a "pramukh" of Dera Sehanshah Alam Dargah Peer Kadar Shah at Mander Bet village, 10 km from here, today organised mass marriage of nine couples.
Bank Manager still untraced
Amritsar, December 28
The State Bank of India's Kasel branch Manager, Mr Prem Sagar Mahajan, has been missing since November 30. He left his house that day on foot but did not return.


Consumer forum tells PUDA to refund excess transfer fee
Mohali, December 28
In an important decision, the Consumer Disputes Redressal Commission Chandigarh (CDRC) has entitled a complainant to a refund of the 'extra' transfer fee charged by Punjab Urban Planning and Development Authority (PUDA) from him.


Ropar MC faces financial crunch
Ropar, December 28
The Ropar Municipal Council is facing a financial crunch. With its earnings equal to expenditures, the council has almost nothing to spend on development. As a result, despite being the district headquarter, Ropar has poor roads, streets and lanes.
Sewerage work inaugurated
Patiala, December 28
City Mayor Vishnu Sharma today inaugurated the start of sewerage work in Ward Number 18 which covers the New and Old Bishen Nagar besides Ram Nagar and the Sewa Singh Thikriwala complex.


Murder mystery solved
Abohar, December 28
With the help of the Punjab Police, the Sriganganagar Police yesterday claimed that murder of Gurbachan Singh Bawri at Rawla Mandi had been solved.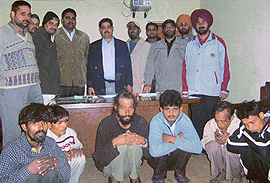 Gang of robbers busted
Fatehgarh Sahib, December 28
The police claimed to have busted a gang of robbers by arresting five members of the gang, who were planning to strike in industrial town of the district, Mandi Gobindgarh. Two .12 bore pistols, four live cartridges and four kirpans and iron rods were seized from their possession.
The CIA staff with six members of a gang of robbers.
Three killed in mishap
Ropar, December 28
Three of a family including Kulwinder Kaur, her husband Tajinder Pal Singh and his father were killed in an accident on the Ropar-Anandpur Sahib road near Bharatgarh today.


College teachers not paid for eight months
Barnala, December 28
Resentment prevails among teachers of Guru Gobind Singh College, Sanghera (Barnala). They have not been paid salary for eight months.
Students pledge to abstain from drugs
Phagwara, December 28
On the concluding day of the three-day zonal Gurmat training camp at Guru Nanak College here today, as many as 140 students of 10 schools and colleges of Kapurthala and Jalandhar districts pledged to abstain from drugs and apostasy.