TRAVEL
Balmy beaches to soothe winter blues
Ervell E. Menezes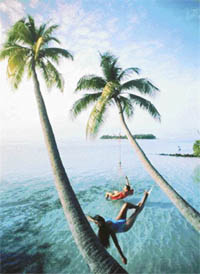 The festive season is not the best time to be in Goa
IF it's December it must be Goa . Everyone and his brother in India makes a beeline to this so-called tourist haven. From politicians to entrepreneurs, high-profile business executives and superbrats, they all want to chill out in Goa. May be it's the Hindi film image that has lead to it or the fact that the ad executives made Goa their favourite haunt since the 1970s. Then there are the firangs for whom Goa is a cheap holiday. The net result is Goa is bursting at its seems. Not a single room is available during X-mas week.
Figures show that this year is better than the last with around 15,000 domestic arrivals as against 13,000 last year. This was not true in case of foreign tourists where the figures are 2 lakh as against 2.7 lakh last year but the figures tell only half the tale. It is quality tourists one is looking for and there is no qualitative categorisation.
Actually, December is not the best time to visit Goa but you can't tell the tourists that. They just want to be there . From the President to the Prime Minister to lesser ministers, they feel that Goa is the Promised Land and tourists far outnumber the Goans during this period. But once you get to Goa what do you do there?
For those ready to jostle their way in crowds and brave traffic jams and the glare of "being there" there are a number of happening places. There's song and dance and music, which may not be "softer than the spirit lies, than tired eyelids upon tired eyes" (courtsey Tennyson) but Titos in Baga-Calangute, Congo in Candolim and Club Cobana in Arpora are the places to be in. Tito's one goes to more to be seen than see and Mumbai's page three folks rush in there in droves. The food is secondary.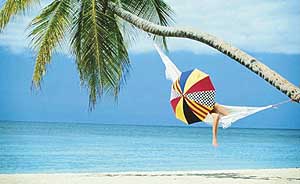 Sun, sea and sand and exotic Goan delicacies can make a trip memorable
There are also local village dances and the Goans, like Blacks, have music in their veins but make it a point to get to them with the locals. If you try to get fresh with the women, be ready to get be bashed up by the local boys. Ingo's Saturday Nite Bazar in Arpora is also a big draw with a wide variety of garments, handicrafts and trinkets.
As far as food goes, there's Thai, Mediterranen cuisine and you can have Sushi and Soulaki plus live entertainment on the centrestage.
But if you chose to be far from the madding crowd you can opt for a number of getaways. There's Palolem beach in Canacona, the southern tip of Goa with thatched accommodation on stilts that gives one an exotic flavour . The only handicap is that it is frequented by Israelis who can be rather noisy and violent when they let their hair down.
EARLIER COLUMNS
Baton Rouge: French flavour in Louisiana
K. Rajbir Deswal
December 21, 2003
Among ancient caves and chaityas at Bhaje
Abhilash Gaur
December 14, 2003
Oasis of calm, islands of tranquillity
Manpreet Singh
December 7, 2003
Haven in the Palni hills
Partha S. Banerjee
November 30, 2003
Welcome to Hollywood terrain!
Nirmal Datta
November 23, 2003
Time and history stand still in Mrs Braganza's house
Rajbir Deswal
November 16, 2003
River, springs and a green carpet welcome in Vajreshwari
Abhilash Gaur
November 2, 2003

Lakes, waterfalls and orchids in abode of clouds
Peeyush Agnihotri
October 19, 2003

A paradise called Atlantis
Mohinder Singh
October 12, 2003

Growing vegetables in a sea fort
Abhilash Gaur
October 5, 2003

A city of bulging domes
Arun Gaur
September 28, 2003

The timeless temple of Ambarnath
Abhilash Gaur
September 21, 2003

Worshipping Durga in Goa
Ervell E. Menezes
September 14, 2003
Then there is Seagull Resorts in Betul, 17 km from Margao on the road to Agonda. Situated on the banks of the river Sal, it is peaceful and with the jetty nearby (it is at the confluence of the river) good, fresh fish is available. Owned by Frank Caeiro and in existence for the last 14 years, it is quite affordable. It's nine rooms are available for just Rs 200 each. They specialise in sea food and a plate of mussels (15 pieces) costs only Rs 40. A bit up-market is Betul Beach Resort, a three-star hotel owned by Ashok Rajyadaksha which has 32 rooms, the only snag is that only his Indian restaurant is open. His a/c rooms are Rs 700, delux, non-a/c Rs 600 and non-a/c Rs 450. River Sal is another hotel nearby but recently the service has been rather erratic.
But when in Goa do as the Goans so and that is sample Goan cuisine. Spicy and endowed with a good deal of vinegar, it is quite distinctive. Sorpotel and pork vindaloo are favourites, so is xacuti (chicken) and roast pigling. Pork is very popular in Goa and to be on the safe side down it with a bit of cashew feni, the local brew, that is for medicinal purposes. It may also be consumed like any other hard liquor but it's better to get it through a friend's friend. Don't try the bottled stuff because most of it is bad. You'd be lucky to get a good bottle. Reminds one of Oscar Wilde's quote: "The adage that marriage is like a lottery that has ruined the lottery business".
But food, glorious food, that's the best reason for being in Goa. In the capital Panjim, there's George Bar and Restaurant, a family-run restaurant near Panjim Church, where one can get a good meal within Rs 100 . Each dish is around Rs 40 and his speciality is custulets, or beef cream chops, a Portuguese preparation. There's also Bar Godinho and Cafe Tato near the Municipal Garden well-known for its Konkan vegetarian food. A bit up-market is Horse-Shoe in the Fontainhas area. Its owner, Vasco Silveira, will also give you the origin of the Portuguese preparations. Viva Panjim in the same area is much more affordable with its lady proprietress Linda D'Souza providing half the charm.
Calangute- Baga in North Goa is where the hippies first landed and this place is choc-o-bloc with restaurants. Britto's is probably the most popular and specialises in sea-food with their sea-platter now costing Rs 170 (it was 150 for 12 years ). The owner is Cajetan Britto and the domestic/foreigner ratio is 50:50. In the heart of the city is Crossroads Hotel whose Restaurant & bar Chippy is also very popular. Its owners, Leslie and Daisy Fernandes, seem to have beaten the Brits at their own "fish'n' chips" game and the Brits come in large numbers. It costs around Rs 130 a plate. A good beef steak costs Rs 150. More inland in a village of Saligao is Florentine which is known for its chicken caffreal, a delicious Black African preparation very popular in Goa. The place is a wee-bit downmarket and the ambience almost non-existent but the food makes up for the lack of cleanliness.
In Mapusa, Sandhya Bar and Restaurant is quite popular and so is Bertsy's, specially for its sausage-bread. Gregory's in Anjuna has been around since the late-1960s and Xavier's is another good food joint. Martin's Corner in Betal-Batim was popularised by Sachin Tendulkar's King Crab Masala Fry and in Raia there is Fernando Costa's Nostalgia . Whether it is Ranchi Kudd (Malwani) in Calangute or Aldeia Santa Rita's " Monday Tapas" in Candolim there is a regular clientele. Sun Village in Arpora is popular for its delicacies and barbeque and it's "Village Lawns" come alive on Mondays and Thursdays with live shows. It's proprietors, Ralph and Norman D'Souza have really grown in the hospitality business.
If you want to go back with souveniers and little knick-knacks there are a number of boutiques with quaint very Goan souveniers, like paintings or miniature Goan windows (no, not Windows 98) or pottery and typical clothes, sarees as well as men's attire. There is also authentic Goan furniture, but carting it back home will be a hassle. May be one of the busiest places is Casa Goa in Calangute, so named because it has everything Goan in it. There is also Attic in Mapusa and Saudade in Panjim. Then there's also wildlife and there are a handful of wildlife sanctuaries, from Bondla to Mollem to Netravali and should provide a soothing balm to the savage urban breast.
But food should be priority. Food and relaxation and to help the digestion as well as combat the nip in the air the local brew will work wonders. As I've said before, the festive season is not the best time to be in Goa but if you've got there you might as well make the most of it. Stay put and ENJOY..