Missing boy returns home
Chandigarh, January 4
Manik, 12-year-old resident of Sector 37, who was reportedly kidnapped by unidentified persons on January 1, returned home today. The abduction story told by the boy is "rather filmy", said the police. There is no clue about the "abductors", who abandoned him on a road in Lalru last night.

Manik being hugged by relatives after he reached home in Sector 37 in Chandigarh on Sunday. — A Tribune photograph
900 cops take part in drill for Kalam's visit
Chandigarh, January 4
Around 900 police personnel today participated in a drill for the security of the President, Dr A.P.J. Abdul Kalam, even as it remains a suspense if he will travel by train or air.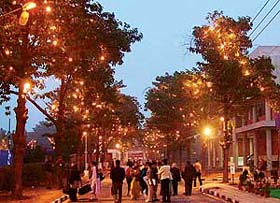 An illuminated pathway is dotted with delegates of the Indian Science Congress after the end of a session at Panjab University on Sunday evening. — Tribune photo by Pankaj Sharma

Punjab varsities lag in scientific research


Chandigarh, January 4
None of the universities in Punjab is among the top 20 in the country as far as the total output of research publications in all disciplines is concerned.

Study finds rice, fish fight malaria
Chandigarh, January 4
Presence of fish in water bodies and rice crop in the fields has been found to fight malaria. Tried and tested in a number of villages all over the country, these findings were presented by Dr VP Sharma, Additional DG, Indian Council of Medical Research, New Delhi, at the GP Chatterjee Memorial Award Lecture organised on the second day of the Indian Science Congress at Panjab University, here today.

Young scientists of India, USA to interact


Chandigarh, January 4
Forty young American scientists will visit India later this year to work with young Indian scientists below 45 years under a new Indo-US programme to promote closer ties between the scientific communities of the two countries.

Merit-based system can help build scientific temper


Chandigarh, January 4
Elite classes in the developing world feel threatened by the development of scientific temper and values among the people especially the poor classes, as it would hurt their political and economic interests.

AIDS virus may help fight cancer


Chandigarh, January 4
The much-feared AIDS disease may soon help mankind fight other diseases like cancer, Alzheimer's and brain disorder. With the help of biotechnology, scientists are making efforts to inject certain genes along with non-fatal AIDS viruses that would fight cancerous cells.



A delegation of lawyers from the Punjab and Haryana High Court Bar Association was in Lahore when the attack on the Pakistani President, Gen Pervez Musharraf, took place on Xmas day.

Changing morality
Healing power
Nari shakti
Who is SC ?
IG's writ