Village celebrates Lohri of baby girls
Chandigarh, January 10
It is a time to salute inhabitants of Manhera village near the historic town of Fatehgarh Sahib. They have not only broken the centuries- old tradition, but have a set a new path for society that has disliked the birth of the girl child since times immemorial.
80 lakh Bangladeshis in North-East, claims delegation
Amritsar, January 10
Contrary to the claims of Major-Gen Mohammad Jahangir Alam, chief of the Bangladesh Rifles, that no Bangladeshis were living in India illegally, students from the north-eastern states today gave a contrary version about the "large number" of such Bangladesh nationals living in their region.
Bureaucrats caught in Congress infighting
FEROZEPORE: The border district of Ferozepore, which till recently had attained notoriety mainly for drug abuse, bootlegging and cross-border smuggling of narcotics, has suddenly gained infamy especially among bureaucrats who now seem reluctant to come here because of the ill luck that the officers have been running into during their tenure here.


SAD open to poll alliance with BSP
Jalandhar, January 10
The Secretary General of SAD, Mr Sukhdev Singh Dhindsa, today revealed that his party was open to the idea of forging a pre-poll alliance with the BSP to ensure the defeat of Congress candidates in the forthcoming general elections.
Cong MLAs, MPs meet today
Phagwara, January 10
PPCC President H.S. Hanspal has convened a meeting of party MLAs, MPs and other leaders at Chandigarh tomorrow in connection with the preparations for the January 15 visit of AICC President Sonia Gandhi to Bathinda. They will also chalk out the strategy of the party for the coming Lok Sabha poll.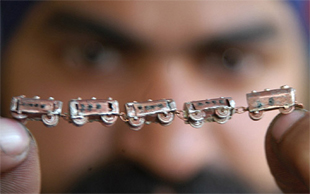 Miniature artist Gurmeet Singh shows his version of Samjhauta Express, a 2.5 inch copper train with five bogies, weighing 3.5 gm, in Amritsar on Friday. — photo by Sawinder Singh
Nursing institutes raided for flouting norms
Mohali, January 10
About a dozen nursing institutes across Punjab being run under the aegis of the Punjab Nursing Council were raided by the state health secretary today following complaints of blatant flouting of council norms by them. The raids which started today will continue for a month and cover every nursing institute registered with the Punjab Nursing Council.
Stage set for empowerment of panchayats
Chandigarh, January 10
The Punjab Government is all set to empower the panchayati raj institutions. A formal announcement in this connection will be made by Congress President Sonia Gandhi at Bathinda on January 15.
Wakf Board to get 23,000 properties vacated
Barnala, January 10
Following the disbanding of undivided Punjab Wakf Board by the Union Government, now the Wakf Board will get its 23,000 properties worth about Rs 1000 crores in the state vacated. These properties had allegedly been illegally occupied by certain influential persons.
Ten lakh expected at Maghi Mela
Muktsar, January 10
As about 10 lakh people are expected to visit this historical town during the three-day Maghi Mela, the district administration has made elaborate arrangements for the convenience, safety and security of the pilgrims.
Punjab Govt to spend 500 cr on developing urban slums
Fatehgarh Sahib, January 10
The Punjab Government will spend Rs 500 crore for providing basic civic amenities like sewerage, water supply and street lighting in urban slum areas, said Chaudhary Jagjit Singh, Minister for Local Bodies, while addressing a gathering at Mandi Gobindgarh in the district.
Steps to give police people-friendly image
Chandigarh, January 10
To present a people-friendly image, the Punjab police is busy improving its house-keeping and taking steps at modernisation for better crime detection and investigation, despite financial constraints.
PSEB to spend Rs 60 lakh on opacity meters
Patiala, January 10
The Punjab State Electricity Board has decided to put up opacity meters wherever needed at its thermal plants to reduce the volume of suspended particles discharged by the plants. According to sources, while opacity meters have already been fitted in four units at Ropar, these would also be fitted in the two remaining units at Ropar besides in other thermal plants.
Ghulam Ali to perform in Patiala
Patiala, January 10
Ghazal singer Ghulam Ali is set to be the star attraction at the second Patiala Heritage Festival which would be organised in the city from February 14 to 22. Others who have confirmed their participation are vocalists Girija Devi and Rajan - Sajan Misra, danseuse Shovana Narayan and flutist Hari Prasad Chaurasia.
Former Navy sailor in penury
Chandigarh, January 10
A 60-year-old Navy sailor is being forced to live in penury. Reason: non-implementation of rules by departments concerned has deprived him of pensionary benefits. He has not been issued an identity card. He can't avail of canteen facilities and other allied benefits.
CPI(ML) holds rally against corruption
Sangrur, January 10
The district unit of the CPI (ML-New Democracy) today held a rally at the Kaula Park market here and a march through the town in protest against the prevailing corruption, implementation of policies of the WTO and the 73rd and 74th Amendments to the Constitution by the state and the Central Governments.
BBMB begins desilting of 2 village ponds
Chandigarh, January 10
Under its community development programme, the Bhakra Beas Management Board started desilting operations of two village ponds at Ghati village in Himachal Pradesh today. The villages are near the Pong Dam reservior managed by the BBMB. All equipment and resoures of the BBMB will be used in the process.
Govt charges Rs 30 for fax, private owners Rs 6
Batala, January 10
Resentment prevails amongst residents of the town against indifferent attitude of Telegraph Office here which had the Fax facility in office.
Surgical feat to remove heart tumour
Amritsar, January 10
Rare open heart surgery was performed to remove a tumour at Escort Heart and SuperSpeciality Institute here by heart surgeons led by Dr Harsharnbir Singh Pannu, Dr Arun Goel, Dr Pankaj Goel, Dr Rajesh Arora and Dr Punit Verma.
Central sops poll stunt, says Santosh
Phagwara, January 10
Former AICC Secretary and Lok Sabha Member Santosh Chowdhary today declared that she was not in the race for the post of president of the PPCC. Talking to newsmen, she asserted that any talk about it was mere kite-flying.


Bail denied in human trafficking case
Jalandhar, January 10
While the district police has so far failed to arrest the three absconding accused, including former Miss Punjab Parpreet Kaur Brar, in the Rs 7 lakh human trafficking case, the Additional District and Sessions Judge, Mr K.K. Garg, today dismissed the separate applicaiton filed by the accused seeking anticipatory bail.
10-yr RI for 2 in rape case
Pathankot, January 10
The Fast Track Court-cum-Additional Sessions Judge, Gurdaspur, today sentenced Des Raj and Raj Kumar, residents of the Dharkalan area here, to 10 years' rigorous imprisonment and also directed them to pay a fine of Rs 5000 each under Sections 324-325-376 of the IPC in a case registered at the Dharkalan police station.
Patwari's remand extended
Fatehgarh Sahib, January 10
Mrs Neelam Arora, CJM, today extended the remand of Mr Gurpal Singh, a patwari, for two more days as the police pleaded in the court that it had to take the patwari to Delhi to arrest Ravi Khanna whose name had been disclosed by the patwari during interrogation.


Farm information centre opened
Jalandhar, January 10
The state Agriculture Department, in its bid to update farmers regarding the availability of international mandis to sell their produce, has decided to set up 38 ultramodern farmers' information and advisory centres throughout the state under the World Bank-funded National Agriculture Technology project.


Water shortage drowns MC claims
Nabha, January 10
In spite of tall claims made by the local municipal council the supply of water has remained erratic, especially during morning hours. The council authorities had claimed that inadequate supply of water was due to tullu-pumps and the condition would improve automatically in the winter. But the problem still persists.
1 pc increase in sales tax collections
Bathinda, January 10
The Excise and Sales Tax Department has registered an increase of 10 per cent in the collection of sales tax by earning Rs 2372 crore in the first nine months of the current financial year. The total collection of sales tax revenue was expected to be Rs 3368 crore by the end of the year.


Man made bid on third child's life also
Hoshiarpur, January 10
Madan Lal of Jandiala village in Jalandhar district, who strangulated to death his 10-year-old son Ravi and attempted to kill his 12-year-old daughter Monika near Gagret on the Hoshiarpur Chintpurni road yesterday, tried to kill his third child also last evening. Presuming him to be dead, Madan Lal threw him on the road near Phagwara and left for some unknown place.
Fresh case against Jhanji
Fatehgarh Sahib, January 10
The police has registered a fresh case against Amit Jhanji, a self-styled president of the Hindu Surakasha Samiti, on the complaint of Amar Singh of Bassi Pathana for allegedly extracting money. He was presented in the court of Mr G.S. Dhillon, CJM, who remanded him in police custody for two days.
11 duped of Rs 28 lakh
Sangrur, January 10
The Dhuri police has arrested Ashok Kumar, a resident of Dhuri, for allegedly duping 11 persons of Rs 27.90 lakh on the pretext of sending them abroad. The man's wife, Reena, and his brother-in-law, Ashok Kumar, from Sunam have absconded. Giving this information on phone this evening, Mr Parambir Singh Gill, DSP, Dhuri, said the police had registered a case under Sections 420 and 120-B of the IPC against the three on the complaint of Mr Sukhwinder Singh of Mojewal village (Sunam).
Arrest warrants against drug distributor
Pathankot, January 10
Ms Kiran Bala, Judicial Magistrate (First Class), here today issued arrest warrants against a distributor for supplying 1,24,500 banned oxytocin injections to local chemists.
Mother, son held for making fake degrees
Amritsar, January 10
The Jammu police headed by Mr Shakeel Ahmad, Inspector, Crime Branch, arrested Neelam and her son for allegedly making fake B.Ed degrees of Jammu University.
Five arrested for killing sambar
Ropar, January 10
District forest officials have arrested five persons on the charges of killing a sambar in the forest area near Kansala village. Sources said the forest officials got information that Surjeet Singh and Karam Singh, both residents of Kansala village and Harnek Singh, Manjit Singh and Gurpreet Singh, residents of Kartarpur, village had allegedly killed a sambar.


ITI staff union protests against privatisation
Jalalabad January 10
The Punjab ITI Employees Union  staged a dharna in front of ITI Complex here today to protest against the state government's move to lease out ITI Complex to private sector. The employees raised slogans against Punjab government and the local MLA.
School kids spread message of road safety
Sangrur, January 10
A large number of schoolchildren took out a rally today in connection with Road Safety Week. The rally was flagged off by Mr N.S. Walia, ADC, Sangrur. Carrying banners and placards the children spread the message of road safety in the town. The rally ended at the War Heroes Stadium here.
Gurmat scholarships given to students
Patiala, January 10
Tarnpreet Kaur and Arashpreet Kaur of Sant Iswar Das Public High School secured 95 per cent and won the first position (primary group) in Gurmat examination conducted by Guru Ramdas Gurmat Scholarship Organisation.