Message of harmony by tiny tots
Panchkula, January 11
A variety programme and presentation of awards to over 100 students in the academics, sports and co-curricular were the highlights of the annual prize distribution function of MRA Modern Public School in Sector 7 here today.
PU may fall short of 180-day requirement
Chandigarh, January 11
Missing their target of 180 teaching days prescribed by the University Grants Commission, the Panjab University and affiliated colleges, despite an academic calendar to guide them through the session, are way short of the mark this year.
Capt Kanwaljit opens school campus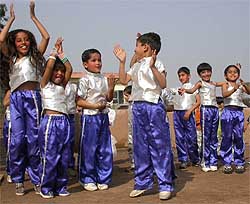 Zirakpur, January 11
Capt Kanwaljit Singh, former Punjab Finance and Planning Minister, inaugurated the new campus of Dikshant International School on the Zirakpur-Kalka highway here today. A unit of Scindia School, Gwalior-Alumni, the campus is spread over an area of one acre. A colourful cultural programme by schoolchildren was the highlight of today's function.


Tiny tots present a dance number at a function at Dikshant International School at Zirakpur on Sunday. — A Tribune photograph

Hamara School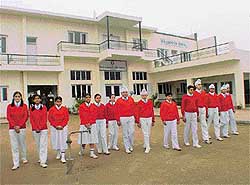 Stress on performance-based learning, teaching
International Public School, Kurali, was established in 1996. Though a fairly new institution, its management includes a team of professionals which focuses on the overall development of students.

A view of International Public School, Kurali.
— Tribune photo by Parvesh Chauhan

Tuition first step towards commercialisation


As the Principal of the school, Ms Promila Sanger, believes that traditional method of education should be combined with modern tools of teaching.

Promila Sanger, Principal