Monday, January 12, 2004
Feature
Bluetooth evolves from infrared waves
Deepak Bagai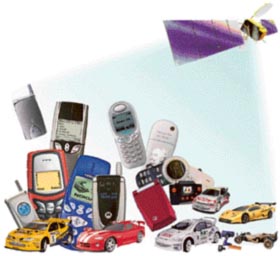 A large amount of data is carried over wired networks. Even cordless and mobile telephones rely on wired 'landline' telephone systems to carry and route calls between end-points. The cluster of cables behind the computer is going to be a thing of past. Bluetooth, is an economical radio technology that enables computers, cellphones, laptops and other devices to talk to one another wirelessly within a 30-foot radius. Till date the most apparent application of Bluetooth devices has been in mobile phones. Headsets with Bluetooth chips enable, hands- free access to the latest phone models. Very soon, digital cameras, laptops, computers and PDAs shall access the Internet wirelessly via Bluetooth-enabled JG mobile phones. Prior to Bluetooth, wireless computer link was enabled through infrared light waves. Infrared has limitation of use within line of sight.
Behind the name
Bluetooth technology has originated from an organisation called the Bluetooth Special Interest Group (SIG). There are numerous stories behind the emergence of the name Bluetooth. Hanary Blatand was king of Denmark who united Denmark and Norway and brought Christianity to Scandinavia. "Blatand" actually translates to "Bluetooth." Bluetooth wireless communication makes use of radio frequency technology to communicate through the air. RF incorporates high-powered transmitters and receivers tuned into a particular frequency range for a long-range transmission in TV. Short-range communication requires less power and thereby batteries can suffice the power requirements. RF waves can penetrate the obstacles and there is no requirement of line of sight here. FM radio broadcast operates in 88 MHz to 108 MHz range, cordless phones work in 900 MHz spectrum and the Bluetooth technology operates in 2.4 GHz spectrum. Through an international agreement, the 2.4-GHz Bluetooth spectrum does not require a license to operate.
Technology
The Bluetooth spectrum is divided into 79 channels and the bandwidth is limited to l MHz per channel. The concept of frequency hopping spread spectrum communication is deployed here. There are other applications also which make use of this spectrum. Microwave ovens work in this frequency range. Some cordless phones also use the 2.4 GHz spectrum. This fact is attributed to the unlicensed 2.4 GHz range and the interferences have to be taken care of by proper design. Spread spectrum divides the existing spectrum according to frequency, time, coding scheme or some other method. Bluetooth wireless communication makes use of the technique of frequency division spread spectrum i.e. frequency hopping. Here the spectrum is divided into different frequencies or channels. One packet of the message is transmitted on a particular channel and then the next packet is transmitted on a new channel, and the process continues.
Bluetooth link between two devices consists of a master and a slave. A Bluetooth radio can assume any role and the master only controls the synchronisation and frequency pattern of FHSS (frequency hopping spread spectrum). The Bluetooth technology has been implemented successfully in many applications. There are Bluetooth-enabled cars, which unlock automatically as the owner

approaches the vehicle. The location of the vehicle as per the area is also indicated. The driver receives a new message on the route via the speakerphone of the car. Bluetooth-enabled office will ensure that the PDA automatically synchronises with the desktop PC of the office and transfers files and e-mails. Long queues at public places like hospitals, theatres, hotels, railway stations, airports etc can be minimised by making them Bluetooth enabled. Bluetooth has become an important building block of wireless technology. It has been predicted that there will be more than 700 million Bluetooth-enabled devices worldwide by 2005.