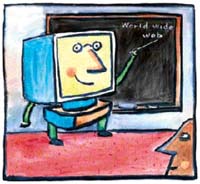 Reaching out to distant learners
Peeyush Agnihotri
Those signals that come through cyberspace have touched all spheres of the terrestrial life. Education, too, has been enabled by technology and is reaching the doorsteps of the millions of students' worldwide, in the process making the Hindi proverb "Pyaasa Kuen ke pass jaata hai," redundant. Thanks to ICT (Information and Communication Technology), the well of knowledge is at the door-steps of the knowledge-thirsty. Online courses abound and so do the courses being offered by various universities (IGNOU, GJU and PTU, to name a few) through distance learning mode, where ICT is the sole facilitator and a fulcrum for knowledge dissemination.
UN project for non-English speakers
IN a bid to make the vast reserve of knowledge on the Internet available to people across the world who do not understand English, a UN supported project is on to convert this information into various other languages, a scientist said at a session on traditional knowledge at the Science Congress that concluded in Chandigarh recently.
Bluetooth evolves from infrared waves
Deepak Bagai
A large amount of data is carried over wired networks. Even cordless and mobile telephones rely on wired 'landline' telephone systems to carry and route calls between end-points. The cluster of cables behind the computer is going to be a thing of past. Bluetooth, is an economical radio technology that enables computers, cellphones, laptops and other devices to talk to one another wirelessly within a 30-foot radius. Till date the most apparent application of Bluetooth devices has been in mobile phones.
IT WIT
by Sandeep Joshi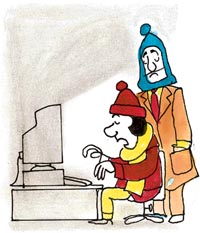 Still surfing past midnight?
What happened to your
New Year resolution?


Digital films click with cinegoers
B. B. Oberoi
Bollywood has turned techno-savvy, opting for digital cinema, a technological wonder that has the potential to revolutionise the dwindling Hindi film industry. The concept of digital cinema is making inroads into the film industry - with over 50 theatres in Maharashtra along with six in Kolkata having installed the digital projection system.

Idiot box with Microsoft inside
Ben Berkowitz
Microsoft Corp unveiled products that will allow TVs anywhere in the home to access video, music and photos stored on personal computers, in its latest effort to push its software beyond the desktop. It also announced the delayed launch of wristwatches that collect data via radio, demonstrated a year ago as part of Microsoft's same effort to find new avenues of growth.

Data export to India piques UK
Prasun Sonwalkar
British banks and companies outsourcing to India have reportedly been circumventing laws that ban the export of personal information of customers out of Britain. Concern is mounting over the increasing transfer of personal information to India as call centres working for British companies contact customers in Britain.
* Quality declining, says survey
* Another scourge — undercutting
Welcome speed with broadband
Sandeep Kumar Sharma
Two years ago, broadband came to India. Still it has not been able to get popular due to a number of reasons. Firstly, it's a bit expensive and many persons do not know about this technology. Broadband refers to high-capacity, high-speed data transmission network that allows people to access online content quick and dynamically, via always-accessible Internet at work or at home.
Apple sells for a song
Duncan Martell
Apple Computer Inc. said it would introduce a smaller and cheaper version of its popular iPod music player next month to challenge rivals in the market for flash-memory-based digital devices. In a presentation at Macworld in San Francisco, Apple Chief Executive Steve Jobs said that Apple, known best for its stylish and easy-to-use Macintosh computers, had shipped 7,30,000 iPod units in the most recent quarter, giving it the market-leading position among digital music players.