Monday, January 12, 2004
Web Jingle
New singer on the block
Amit Puri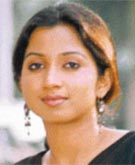 Shreya Ghosal
Hit songs: Bairi Piya, Silsila Ye Chaahat Ka, Chalak Chalak, Morey Piya, Dola Re Dola, Jaadu Hai Nasha Hai, Chalo Tumko Lekar Chale.
Shreya was a just four when her parents noticed musical flair. She got her initial lessons in singing from her mother, Sharmistha Ghosal, who is a trained singer. Formal training was, however, taken up by Maheshchandra Sharma. After she won a couple of rounds in the Zee TV show, Sa Re Ga Ma, Sanjay Leela Bhansali noticed Shreya's talent at the megafinals of the show and gave her a chance in Devdas. She was awarded the Best Singer (Female) for Bairi Piya at the fourth International Indian Film Academy Awards function, held in Johannesburg in May last year.
After that proposals to sing poured in by a dozen. She recorded for many music composers and some of them are, Main Hoon Na, Munnabhai MBBS, Khakee, Zaroorat, Baghbaan, Aitbaar, besides several Tamil and Telugu films.
Shreya, at 19, has made her place as the topmost female singers of Bollywood. The best part is that she can sing almost any kind of song as her voice has a lot of variation. She sang soft and classical songs for Devdas and seductive songs for Jism.
www.raaga.com/channels/hindi/movie/H000398.html
This link opens the page where songs of Devdas are available. Silsila Ye Chaahat Ka, Bairi Piya, Chalak Chalak, Morey Piya and Dola Re Dola are the songs sung by Shreya and all are available on the page. The site also provides the lyrics of the songs. Another link, http://www.raaga.com /channels/hindi/artist/Shreya%5FGhosal.html, from the same site provides the songs sung

by Shreya. On this page along with the songs from the film Devdas, songs of Jism are also available to online listening.
www.oosai.com/singer_list.cfm?sngrnm=Shreya%20Ghosal
This link offers us links to the songs sung by Shreya Ghosal in Tamil. There are seven songs available on the page, which can be heard online. www.raaga.com/channels/tamil/artist/Shreya_Ghosal.html is another link where we can find Tamil songs sung by Shreya.