Groundwater depletion in Punjab alarming: TERI expert
Chandigarh, January 14

Depleting groundwater resources in Punjab and alarmingly high noise and air pollution levels in Chandigarh have been identified as the gravest environmental concerns for the two regions under the Ministry of Environment's State of Environment (SoE) Reporting project which entered a vital phase today.
KCF (Panjwar) may be behind fractured rail track
Jalandhar, January 14
The fractured railway track, which was possibly blown up with the help of some explosive device near Goraya on the night of January 5, could be a handiwork of the Khalistan Commando Force (Panjwar) or the J&K militants, preliminary police investigations suggest.
'Bomb' found on school premises
Patiala, January 14
A crude bomb-like device, which was found on the premises of a primary school today, created panic among the residents of the heavily populated Badungar Basti area where the school is located.
Governor to unfurl flag at Amritsar
Chandigarh, January 14
The Punjab Governor, Justice O.P. Verma, will unfurl the Tricolour on Republic Day at Amritsar while Chief Minister Amarinder Singh will do so at Ropar.
Former Cong men return to party fold
Bathinda, January 14
The District Congress Committee (DCC) Bathinda, today got a shot in the arm when Mr Kulwant Rai Aggarwal, its former vice-president, who unsuccessfully contested against Congress MLA Surinder Singla from this segment in the last Vidhan Sabha elections, joined the party here today.


Tarlochan for token jatha to Pak
Amritsar, January 14
The Shiromani Gurdwara Parbandhak Committee (SGPC) has said, if the government is sincere about celebrating the 400th anniversary of the Parkash Utsav of Guru Granth Sahib, it should concentrate on development and providing infrastructure to the cities concerned.
5 deaths in 45 days at mental hospital
Amritsar, January 14
Five deaths have been reported in the past one-and-half-months at the government run Vidhya Sagar Mental Hospital here. Two of the deceased were women.
Jallianwala Bagh hospital to go private
Amritsar, January 14
After toying with an idea of handing over the local Jallianwala Bagh Memorial Civil Hospital in private hands for at least a year, the state government has reportedly decided to offer it to private parties.
Town beautification drive launched
Ferozepore, January 14
The district administration has embarked on an ambitious plan for the beautification of the town, especially the roundabouts and the main road passing through the town.
24-hr power supply to villages by June 30
Chandigarh, January 14
The Punjab Government today expedited financial allocations to the social sector, infrastructure building and assured 24-hour supply of electricity to villages.
Farmers refute PSEB claims
Jalandhar, January 14
The tall claims of the Punjab State Electricity Board (PSEB) regarding 10 hours' regular power supply to farmers notwithstanding, residents of six villages here have alleged that power was available for only four to five hours daily.
Two killed in fog-related mishap
Batala, January 14
Two persons were killed and four others injured in a head-on collision between a car and a truck near Ghania ke Banger village, 20 km from here today.
CRPF unit gets national prize
Chandigarh, January 14
The Central Reserve Police Forces' (CRPF) Group Centre at Jalandhar has been adjudged as the best group centre for 2003. According to a statement issued here today, the trophy was received by the centre's Additional DIG, Mr S.S. Gill, from the Union Minister of State for Home, Mr I.D. Swami, recently.
March to promote world peace
Phagwara, January 14
A five-member group of Rotary Club, Aston, Birmingham, today began a peace march from Phagwara to the Golden Temple, Amritsar, for the promotion of world peace, brotherhood and to help the needy.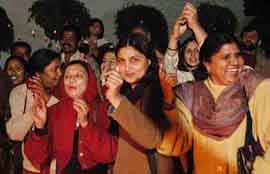 Pakistan artistes in India
Amritsar, January 14
More than 100 Pakistani artistes arrived here by road through the Wagah joint checkpost to celebrate Lohri and Maghi with their Hindu and Sikh brethren.
Activist delegates of South Asia Partnership Pakistan Men and Women celebrate Lohri and express their happiness over the resumption of Samjhauta Express at Amritsar on Wednesday before leaving for Mumbai to attend the World Social Forum conference. Nearly 400 activists from Pakistan are attending the conference.
— Photo by Sawinder Singh Amritsar

Tributes paid to Lt Triveni Singh
Pathankot, January 14
Shardhanjali Samaroh was organised here today to pay tributes to Lieut Triveni Singh of 5 JK LI, who sacrificed his life to save hundreds of passengers at Jammu railway station during the January 3 terrorist attack.


High Court
CM's election: next hearing on Jan 28
Chandigarh, January 14
The High Court today fixed January 28 as the next date of hearing on a petition challenging the Punjab Chief Minister, Capt Amarinder Singh's election from the Patiala Assembly constituency.
Nirapjit gets bail
Ropar, January 14
The Special Judge Ropar, Mr S.K. Goel, today granted bail to one of the main accused in a corruption case against Mr Parkash Singh Badal, Mr Nirapjit Singh, a sub-inspector in the Chandigarh Police, as the Vigilance Bureau failed to present challan against him within 90 days.


Selection committees to recruit panchayat secys
Chandigarh, January 14
Panchayat secretaries will be recruited through selection committees, to be set up by the Punjab Government.
Rs 2 cr grant to District Welfare Dept: DC
Patiala, January 14
The Deputy Commissioner, Mr Tejveer Singh, said today that Rs 16. 5 crore had been spent during the current financial year on various developmental scheme. He added that Rs 8.7 crore had already been granted to departments concerned for the overall development of the district.


3 fake VB officials booked
Jalandhar, January 14
The police has registered a case against three "unidentified" persons for their involvement in an alleged Vigilance Bureau "raid" at the residence of the Punjab Technical Education and Industrial Training Minister, Mr Mohinder Singh Kaypee, on January 5.
16 hurt in Lohri clashes
Phagwara, January 14
Sixteen persons were injured in three different group clashes on Lohri night in and around Phagwara.
1 killed, 6 injured in group clash
Pathankot, January 14
One person was killed and six others injured in a clash involving two groups in Baba Laharian village, 20 km from here on Tuesday night.


Unemployed ETTs work as shoeshine boys
Muktsar, January 14
Activists of the Berojgar ETT Teachers' Front were prevented to meet the Punjab Chief Minister, Capt Amarinder Singh, by the district administration yesterday, when they tried to lodge a protest by wearing black bandages on their mouths.
PCCTU threatens education bandh
Phagwara, January 14
The Punjab and Chandigarh College Teachers Union (PCCTU) today gave a call for an education bandh in all 172 non-government colleges on January 21 in protest against the failure of the Punjab Government in maintaining grant-in-aid at 95 per cent and implement pension and gratuity, besides other demands.